June 25, 2015: Oak Creek, Wisconsin (CNN) –  When Pardeep Kaleka heard about the church shooting in Charleston, South Carolina, grief and terror came flooding back to him.
For nearly three years he has had to live with sorrow and uncertainty, ever since the day a gunman opened fire at the Sikh Temple of Wisconsin.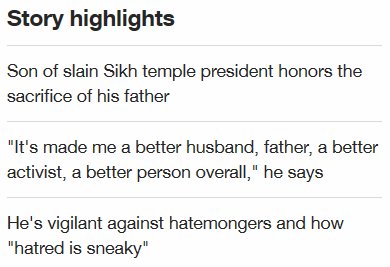 "That day six people lost their life and one suffered significant injuries and is in a vegetative state to this day," Kaleka said. "My dad was one of them."
Like the nine African-Americans shot to death last week at Charleston's Emanuel AME Church, the Sikhs of the temple in Oak Creek were victims of hatred.
Pardeep Kaleka's father, Satwant Kaleka, was president and founder of the temple in this Milwaukee suburb. He was fatally shot in the August 5, 2012, attack while trying to fight off the gunman, Wade Michael Page.
Page, a white supremacist, killed himself with a bullet to the head after police shot him in the stomach.
To honor his father, Pardeep Kaleka wrought a legacy out of the horror.
"It's made me a better husband, father, a better activist, a better person overall," the son said.
But the sense of safety has changed. Guards are posted at the temple these days. And the attack left Kaleka with deep psychological scars.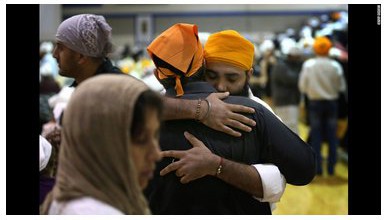 "No longer can I just assume that it's going to end up well. I sometimes assume it's going to be the worst. For me, tattooed white males set off some kind of trigger in me where I'm like, oh, OK, that person is going to start shooting up the Starbucks. The mall. There's an assumption of guilt. That is tragic that we have to live like that.
"But to me it's beautiful that we have to live like that. Because I take nothing for granted," he said.
Kaleka also has taken it upon himself to learn more about the mentality responsible for that terrible day in 2012.
"We as a society need to be fearless. You know, I didn't want to understand white supremacist ideology right after this happened. But then I had to say, OK, be courageous and see what is behind some of this hate. And a lot of times, you find out what is behind hate is fear," Kaleka said.
Kaleka used to be a police officer. He is a first-generation immigrant whose parents brought him to this country from India. The couple sought a better life for their children. They worked very hard for it, especially his father.
"When he was deceased I looked at his hands and I saw all the callouses that were on them," he said. "And you looked down at his feet and you see how hard they probably worked to get to where he needed to get in this country."
His father was committed to helping his fellow Sikhs fulfill their dream of having a safe place to observe their faith in their community.
Now a trustee of the Sikh Temple of Wisconsin, the son has picked up the father's mantle and works to make his city better.
Just as Christianity, Sikhism preaches forgiveness.
For Sikhs, the act of forgiveness is considered a divine gift; because people cannot take personal credit for the ability to forgive, they have no standing to be prideful.
"We all play a role in eliminating hate," Kaleka said, noting that hatred seems to be growing worse in America.
"We as a society have become too comfortably complacent, and what I mean by that is that people are getting stuck in a routine," he said. "As long as nothing interrupts that routine, we think that the world around us and the community around us is doing fine.
"Hatred is sneaky in that way. It will take comfortable complacency and use it and consume it and create more and more hate. I see the biggest vehicle for creating hate is social media," he added.
Healing that hatred is going to take more than just removing a flag, he said.
"We generally want to say oh, OK, there's just one thing that is wrong with this and if we eliminate that, then somehow, some way, we can come to a solution," Kaleka said.
"We can think about it as a kind of wound, and the deeper the cut, the longer it's gonna take to heal."
CNN's Glen Dacy contributed to this report from Wisconsin. CNN's Sara Sidner wrote from Los Angeles, where Alberto Moya and Michael Martinez also contributed.