Weekly Roll of Honour
Our regular weekly newsletter continues this week as a commemoration to those Sikhs who fell in
action. Each soldier's record is mapped to his village of birth on our Soldier Map of Punjab. To
view a record just click through on their name below.
Please share the list with others, and encourage them to sign up directly to our newsletters, and
help others to also learn about and commemorate the Sikhs of World War One.
The Sikh Roll of Honour: 100 Years Ago This Week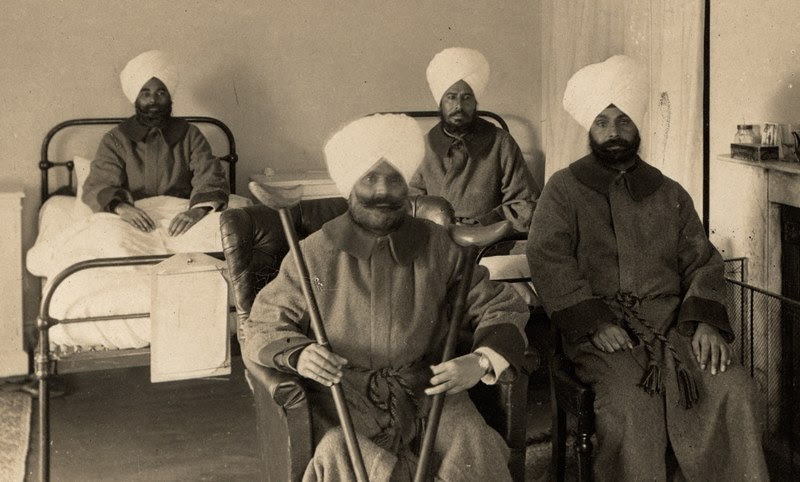 This week's roll of honour of those who died exactly 100 years ago lists troopers who were all
Sepoys, the equivalent of a Private, but also one Follower – one of the vital ancillary men without
whom an army on the move could not function. They served and died on Egyptian, Kenyan, Iraqi
and Indian soil.
Like nearly all Sikh recruits these men mainly came from villages that dotted the fertile plains of
Punjabi. The names of their villages continue to strike a chord with those who have an ancestral
connection to them – is one of them connected to you? Click on a name below to see their record
appear on our Solider Map of Punjabi villages.
Sikh Roll of Honour week commencing Monday 17 October:
Monday, 17 October 2016 
Tuesday, 18 October 2016    
Wednesday, 19 October 2016    
Friday, 21 October 2016    
Saturday, 22 October 2016    
Sunday, 23 October 2016    
Who were these men? What is their story? Help us find out by becoming a Citizen
Historian and following our step-by-step getting started guide on how to research a WW1
Sikh soldier.
Do you have a personal link to any of them? Do you recognise your village? If yes, then
could it be that the soldier is connected to you, even possibly your WW1 ancestor?
Click on a name above and you'll be taken to their Soldier Record where, to the bottom-
right, you'll see the 'Adopt Soldier1 button – click on this to begin your journey as a Citizen
Historian, helping to create a lasting memorial and legacy to the fallen.
Till next time
The EFW Team
The Sikhs of World War One: With Your Help They Will Be Remembered.
Keep up to date with our regular updates and your chance to join in the conversation on Facebook & Twitter
Picture Credits:
1. An engraving titled 'Settling An Old Score: Bengal Lancers' First Brush With The Enemy', c 1915.
(Courtesy of Sikh Heritage Museum of Canada)
2. Detail from a photographic postcard titled 'Royal Pavilion. Indian Officers' Quarters'. Photographed by
AH. Fry, Brighton, c 1915. (UKPHA Archive)
———————————
Related Articles:
https://www.sikhnet.com/news/sikh-roll-honour-100-years-ago-week
https://www.sikhnet.com/news/weekly-roll-honour-100-years-ago-week