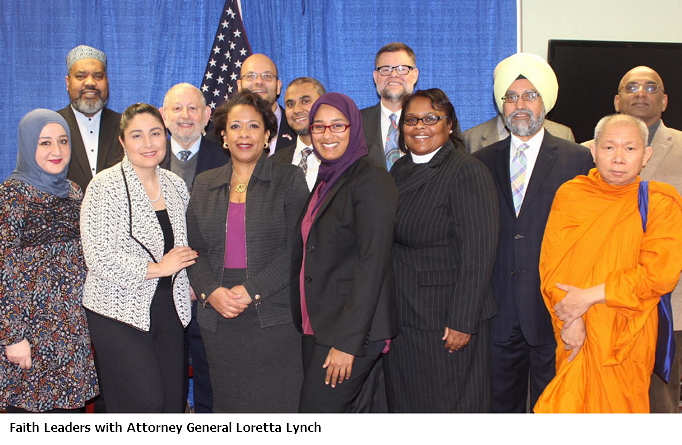 Sikhs joined U.S. Attorney General Loretta Lynch along with other interfaith leaders to express solidarity with Muslims and with all faith communities. Leaders from Jewish, Bahai, Christian, Jain, and Sikh faith communities had gathered at All Dulles Area Muslim Society (ADAMS) in Sterling, Virginia. Dr. Rajwant Singh, Chairman of the Sikh Council on Religion and Education spoke on behalf of the Sikhs.
Lynch, the first African-American woman to be named U.S. attorney general, while addressing the rising hate crimes across American, she said,  "Hate crimes target more than just the individual at that time; they target the fabric of our communities," Lynch said. "They are also a stain on our nation's very soul."


Lynch, pointing to a "disturbing" 67 percent increase in anti-Muslim hate crimes from 2014 to 2015, called the rise a "sobering indication of how much more work remains to be done." 
"Behind every number is a person. Behind every statistic is someone whose rights have been violated," Lynch said. "When one of us falls, we all have to step up without regard for our own safety. When one of us is threatened, we all have to speak out."
She added, "Cornerstone of our work is investigating and prosecuting hate crimes against Muslims as well of those who are perceived to be Muslims. It was of course 9/11, the first individual to be targeted in a perceived Muslim attack was in fact a Sikh individual." Balbir Singh Sodhi was killed on September 15, 2001. She added, "Muslim Americans, Sikh Americans and Hindu Americans, all practitioners of all faiths – You are friends, You are family members."
She encouraged all Americans to report hate crimes and act as "eyes and ears" for the Department of Justice.
The attorney general said there was an ever-growing need for an active DOJ, citing the rise in anti-Muslim acts as well as an increase in "divisive and fearful rhetoric." 
"To invoke a blanket stereotype to characterize any members of any faith because of the actions of some who pervert that faith is to take our nation backwards," she said.
Several faith leaders at the news conference focused on the bipartisan nature of religious freedom.
Dr. Rajwant Singh, Senior Advisor to the National Sikh Campaign, said, "Sikh community has faced many challenges in the past and this will not deter us to practice our faith and together we have to stand for each other. All immigrants and faith communities have strengthened this country.
He added, "We must work together to create safe spaces for our children so they do not live in a fearful environment and are not afraid to stand for themselves."  He quoted Guru Nanak, the founder of Sikh faith, "Sabh Meh Jot jot hai soye, tis de chanan sabh meh chanan hoye – Each one of us is blessed with the presence of Divine Light. It is incumbent upon all of us to shine that light in all of our dealings with each other and continue to make this country a beacon of hope for all."

Lynch referenced several DOJ measures to prosecute and combat hate crimes, including classroom religious tolerance initiatives, partnerships with local law enforcement agencies, and the Religious Land Use and Institutionalized Persons Act, which protects houses of worship. The Justice Department has used the law to investigate more than 50 cases since 2010, she said.
"We have accomplished so much, and there is so much more to do," Lynch said. "But that's what we do ― that's what we do as Americans, that's what we do as people of faith. We keep moving. We push forward."
The number of hate crimes reported in the United States increased by about 6 percent in 2015 — led by a surge in attacks targeting Muslims, according to data released last month by the FBI.
The number of assaults, attacks on mosques and other crimes that targeted Muslims grew by 67 percent to 257 crimes — the highest total since 2001, when more than 480 crimes targeted Muslims in the aftermath of the 9/11 terrorist attacks.
She assured, "I know that many Americans are feeling uncertainty and anxiety as we witness the recent eruption of divisive rhetoric and hateful deeds. I know that many Americans are wondering if they are in danger simply because of what they look like or where they pray," Ms. Lynch said. "I know that some are wondering whether the progress we have made at such great cost, and over so many years, is in danger of sliding backwards."
While she acknowledged the Department of Justice will encounter challenges in the years to come, she said career prosecutors will continue to enforce federal hate crime laws.
She added, "Religious institutions aren't the only vulnerable spaces we are determined to keep free of hatred and bias.  We all know that in order for our children to learn and thrive, they need access to safe and inclusive classrooms.  Earlier this year, the Civil Rights Division launched a new initiative with our U.S. Attorneys' Offices that will significantly advance our ability to address religious discrimination in schools.  And our Community Relations Service, or CRS – led by Paul Monteiro, who is also here with us today – works to ease tensions and promote understanding in communities and schools that have been rocked by traumatic incidents.  
She cited, "After a student was allegedly forced to remove her hijab in a school in Massachusetts, the school invited CRS to present its Arab, Muslim, and Sikh Cultural Awareness Program to the school's staff.  CRS also recently appointed its first ever National Program Manager for Muslim, Arab, Sikh and South Asian Communities, and I am so pleased that Harpreet Singh Mokha has joined us here today."