Innovation Minister Navdeep Bains possesses a colourful collection of Sikh turbans in his wardrobe, and sometimes he uses them as a tool to relay government messages.
He wore a bright yellow turban to mark the "sunny ways" Liberal agenda and donned a green head covering the day the government unveiled a national carbon price plan to tackle climate change.
And to announce the restoration of the long-form census — the first significant announcement after the Liberals took office — he donned a turban in the Liberal Party's signature red.
"It's something I have fun with, with my colleagues, or with my girls at home as I'm packing," he told CBC News. "They help me pack and match my ties with my turban colours. It's really light-hearted. It's not strategic or done by design, it's more taking advantage of all the colours I have and matching ties with them."
Colourful collection
During an event on innovation and economic growth in Ottawa earlier in the day, Bains said he also matches the turbans with policy "messages."
"I do take advantage of the different colours of turbans I do have and try to get some of the government messages across," he said during the Public Policy Forum's Canada Growth Summit event with former deputy prime minister John Manley.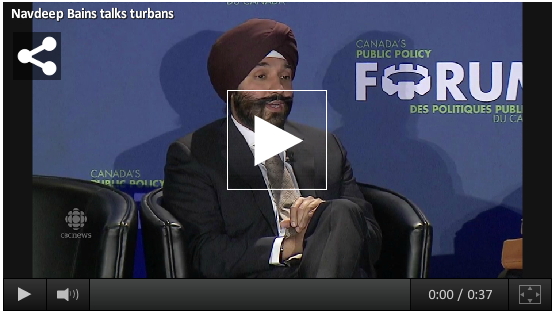 Bains said he hasn't counted his collection, but estimates he has roughly two dozen turbans in different colours and shades.
"I'm very blessed to live in a country where I can practise my faith. I'm very proud of the fact that I can wear a turban, be an elected official and represent such a diverse riding. It's a point of pride," he said.
4 Sikhs in cabinet
When Prime Minister Justin Trudeau appointed his first cabinet last fall, he said it "looked like Canada" in terms of diversity and gender equality. Four Sikhs were among the 30 ministers sworn in.
Bains and Defence Minister Harjit Singh Sajjan both wear beards and turbans. ​ 
Other Sikhs in the cabinet are:
Amarjeet Sohi, minister of infrastructure and communities.
Bardish Chagger, minister of small business and tourism and now government House leader.
Bains said he has "great conversations" about wearing the turban with his colleagues in government and the opposition parties.
"Usually it's a very positive conversation, more curiosity-driven, more questions around the colour in terms of trying to figure out if there's any religious meaning. There isn't," Bains said.