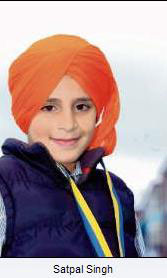 Leaders of the Sikh community feared the art of tying a turban was dying out.
However, almost a hundred young people have proved the skill is still alive and kicking in Leicester.
Youngsters aged eight and upwards showed off their turban tying ability's in the first competition of its kind for Leicestershire.
Leaders of Leicester's Sikh community had organised the event after becoming concerned that not enough youngsters were wearing turbans – headwear associated with their faith.
About 300 people attended the Sri Guru Harkrishan Sahib Ji Gurdwara, in Oadby, to watch the competition.
In all, 97 children took part in the turban tying, with winners chosen by a panel of judges who were looking for style and uniqueness.
Surjinder Singh, 17, of Rushey Mead, was awarded best over-15 boys' award.
He was the only one to attempt a Dumala style, a tall turban which dates back almost 300 years.
He said: "It took me about 15 minutes to tie mine because it's quite a complicated one.
"I'm very proud of mine and proud to wear a turban.
"I've worn one since I was 11 years old and it's a very important thing to me, as it should be with all Sikhs."
Bhavandeep Singh, eight, of Oadby, was also proud of his efforts.
He said: "I tied my turban all by myself without any help like other people.
"I have been practising for about four weeks to do one.
"I don't always wear a turban but when I'm older I will because I think they are very important."
The children at the event also enjoyed a talk on the importance of wearing a turban, or dastar, as it is also known.
They were shown an animated video of the history of the garment before taking part in the competition.
Event organiser Tarlochan Virk, the general secretary of the Punjabi Listeners Club, a community group, was delighted with the popularity of the event.
He said: "It was brilliant to see so many young Sikhs wearing turbans.
"I was very honoured to see so many people interested and I have to thank everyone who gave up their time to help."
David Parsons, leader of Leicestershire County Council, was present to hand out some of the trophies.
He said: "I was very impressed with all the children's turbans.
"It's the first time I have ever worn one, and I feel privileged to have done so."
The winners in the eight to 10 category were Satpal Singh and Prabhjot Kaur. In the 11 to 14 group, Sahib Singh was awarded the trophy along with Prabhjot Kaur and in the over-15s, Surjinder Singh and Dapinder Kaur were selected as winners.

The competition continued the celebrations to mark the 300th anniversary of the Sri Guru Granth Sahib Ji, the Sikh holy scripture, which fell in October.