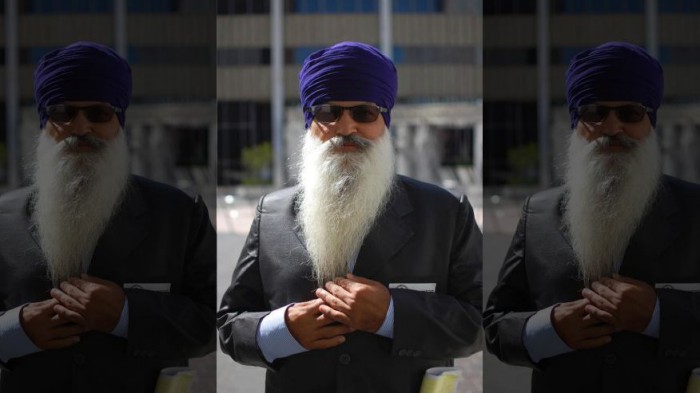 This May 12, 2015, photo provided by the Sikh Coalition shows Lakhbir Singh, one of the four truckers in the case against J.B. Hunt Transportation Services Inc., taken at the Los Angeles Equal Employment Opportunity Commission office during conciliation in Los Angeles. Four Sikh truckers who could not comply with drug testing that required them to provide clipped hair samples or remove their turban because those violate religious principles reach a settlement with a major national trucking company. (Simran Kaur/The Sikh Coalition via AP) (The Associated Press)

November 15, 2016: LOS ANGELES – A national trucking company has agreed to pay $260,000 to settle discrimination complaints by four Sikh drivers who were denied jobs for refusing to take drug tests that would have violated their religious beliefs.
J.B. Hunt Transport Services Inc. reached the settlement being announced Tuesday with the U.S. Equal Employment Opportunity Commission, according to the agreement provided to The Associated Press.
The trucking company required three men to clip their hair for drug samples and required a fourth to remove his turban before providing a urine sample, said The Sikh Coalition, which represented the men and shared the agreement.
The four California men were not offered testing alternatives and were denied jobs when they refused to submit to the tests.
Observant Sikhs never cut their hair and wear turbans in public at all times, said Harsimran Kaur, the group's legal director. It is considered shameful and humiliating to remove a turban in public.
"It's absolutely a challenge for observant Sikhs to maintain unshorn hair," Kaur said Monday. "The importance of this settlement is that it sends a message to employers that even drug testing regimens do not fall outside the purview of the federal anti-discrimination law. Employers can't proffer safety as a blanket justification to discriminate."
J.B. Hunt agreed to revise its anti-discrimination policies and provide training on accommodating religious beliefs, according to the agreement.
The Arkansas-based company chose not to comment, according to attorney Kevin Lilly, who represented the company in the matter.
The EEOC wouldn't comment Monday, a spokeswoman said.
The Sikh Coalition said the case could have an impact on other trucking companies and industries. Thousands of Sikhs work as truckers in the U.S. and the group said it has also learned of technology and pharmaceutical companies that asked Sikhs to provide hair samples, which can show the presence of drugs several months after use.
Employers can generally require a certain appearance at work, even barring beards or hair styles that might be associated with certain racial groups, said Ariela Gross, a law professor at the University of Southern California. However, those rules don't tend to hold up when applied to religious groups that require a turban or bar them from cutting hair.
"Where they're requiring them to cut a piece of their hair for drug testing it seems odd they wouldn't accept other types of testing alternatives," Gross said. "That's what makes it seem like a relatively straightforward case."

Observant Sikhs abstain from alcohol and drug use. They never cut their hair because it's considered to be in harmony with God's will and is one of five required articles of faith.
One of the truckers in the case, Lakhbir Singh, who emigrated from Punjab, India, 20 years ago, said he always had submitted to urinalysis for drug tests for other jobs. When J.B. Hunt required a hair clipping for testing while he attended job orientation in 2011, he offered to provide a hair sample from his comb, but wouldn't allow his hair to be clipped.
After losing the job, he struggled for most of the next five years to find permanent, full-time work to support his family. He now works for another trucking company.
"When they declined to give me the job, it was one of the hardest times of my life," he said through an interpreter. "My body went numb and I had tears in my eyes."