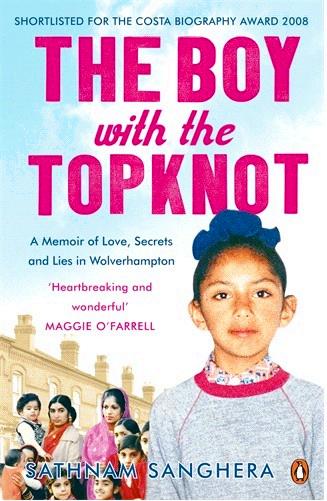 I was absolutely delighted last year when I saw the shelves of a Central London bookshop dominated by a book whose jacket featured the photograph of a delicate-looking nine year old Sikh boy tensely staring out. I can confidently say – this was the first joora to appear on a book jacket! This week that book "The Boy with the Topknot" by Sathnam Sanghera has won the Mind Book of the Year Award
I am often quick to complain that Sikhs are obsessed with identity issues and should instead focus on our real social and political problems; however blinded by my own delight at seeing a positive image I was perfectly happy to buy the book for the jacket alone. Reading the book though was the real delight – it is a story that promises "love, secrets and lies in Wolverhampton" but it is so much more than that.
For Sathnam Sanghera, growing up in Wolverhampton in the eighties was a confusing business. On the one hand, these were the heady days of George Michael mix-tapes, Dallas on TV and, if he was lucky, the occasional Bounty Bar. On the other, there was his wardrobe of tartan smocks, his 30p-an-hour job at the local sewing factory and the ongoing challenge of how to tie the perfect top-knot.
And then there was his family, whose strange and often difficult behaviour he took for granted until, at the age of twenty-four, Sathnam made a discovery that changed everything he ever thought he knew about them. Equipped with breathtaking courage and a glorious sense of humour, he embarks on a journey into their extraordinary past – from his father's harsh life in rural Punjab to the steps of the Wolverhampton Tourist Office – trying to make sense of a life lived among secrets.
As a good Indian parent I am paranoid and edgy about my young son and the way he is perceived. I fret endlessly about role-models, positive images and helping him discover his confidence. Sathnam Sanghera cut his hair in his early teens and his chapter on that incident; heartbreaking and hilarious in equal measure is a must-read for every Sikh parent.
"The Boy with the Topknot" is also an inspiration for a younger generation of Sikhs who are staking out a career in the arts and humanities possibly to the annoyance of parents. Sathnam Sanghera, the Cambridge graduate and now an accomplished newspaper writer, author and award winning columnist for The Times has a story that is an inspiration to a new generation.
This book however, is not intended to be a manual for neurotic Sikh parents or a guidebook for students or even the luckless and comical story of Sathnam's search by proxy of a suitable Jat Sikh partner. The heart of his memoir is the sensitively rendered story of his family's handling of schizophrenia – an illness that has sadly afflicted his father and his eldest sister. Sathnam writes with great skill and bravery about this without ever allowing the narrative to descend into a poor-me story. Instead the genuine hero of the book, his mother, is revealed, often at the expense of the neurotic and nerdy Sathnam.
This is a beautifully written and important book for Sikhs from a major new talent in the UK from whom I hope we read more.
Meet and Eat with Sathnam Sanghera
An added bonus is that you can meet the author – Sathnam Sanghera in London on July 8.
Curry Night
Meet and eat with Sathnam Sanghera, who will be talking about his award winning book 'The Boy with the Topknot' on Wednesday July 8th 2009, 6.30pm, at Mango Leaf Restaurant, 249-251, Green Street, E7 8LJ.
Tickets £15 includes two course buffet meal. Tickets available from Newham Bookshop 020 8552 9993
See also : http://www.sathnam.com/Events/