BIO
Gurinder Singh Khalsa
Chairman
(317) 308-1050 * (916) 833-9218
[email protected]
SikhsPAC.com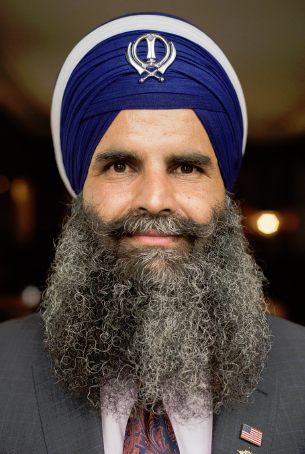 Gurinder Singh Khalsa is the founder and current chairman of
SikhsPAC (Sikhs Political Action Committee) and a vocal leader of
the Sikh community in Indiana, the Midwest and across America.
On Aug. 31, Khalsa officially started his journey into the world of
American politics with the launch of SikhsPAC. In the fractured
world of US politics. Khalsa managed something unprecedented. He brought together members of both major US parties in a single
conference.
In attendance at the inaugural SikhsPAC event, he brought
together Indiana governor candidates Eric Holcomb (Republican)
and John Gregg (Democrat). Also in attendance were both
candidates for Indiana attorney general and superintendent of
education. Indianapolis mayor Joe Hogsett also attended.
"When I look ahead to the next ten years, I see India-Indiana
economic development as a logical next step for the state." said Holcomb, who spoke mostly on future business relations.
"I will pass hate crime legislation in Indiana," promised Gregg, who spoke on a variety of topics from
economic development to racially motivated crimes against Sikhs in Indiana.
Hogsett is not currently running for office. However, he pointed to epidemic crime and poverty issues
plaguing Indianapolis and called for Sikhs to continue supporting efforts to address these issues.
Khalsa was born in 1973 in a Adhoi in the Ambala district in the state of Haryana about 100 miles north of
New Delhi. His parents relocated to the area after surviving an arduous and involuntary-journey out of the
newly formed state of Pakistan. An estimated 14 million people were displaced during these migrations and
as many as 2 million Sikhs, Hindus and Muslims were killed as a result of religious violence during this
tense period.
Khalsa's family survived the relocation process and eventually obtained a small parcel of farmland in the
Punjab region. His parents were small farmers who worked continuously to provide a better life for their
children, working many extra hours to ensure Khalsa and his siblings would have the opportunity to
receive a quality education.
Khalsa moved to the United States in 1996 after writing four research papers which were presented in the
conference of the US Department of Interior on geopolitics and environmental policy. This included
extensive research on boundary disputes between Pakistan and India as well as environmental degradation
in the Himalayas due to extensive deforestation by gross human negligence.
Khalsa holds a bachelor's degree in economics and a master's degree in geography from the University of
Punjab. He also completed an advanced business finance program at the University of California, Berkeley
in 1998.
Prior to moving to Indiana in 2008. Khalsa spent five years in the real estate, insurance and finance sectors
in California. After purchasing his first business over a decade ago, he found a love for commercial real
estate development, brokerage and investment. Since 2003, Khalsa has worked tirelessly to develop a chain
of businesses throughout California, Nevada and Indiana
"I've known him for 20 years," said longtime friend April Alexander, "He's a natural born leader. When we first
met, I was a little intimidated. I couldn't believe how tenacious he was. He will be on the cover of Time
magazine someday."
His first foray into politics followed shortly after the tragic events of Sept. 11, 2001. when he organized a
series of meetings with lawmakers in California to address the issue of misguided violence against the Sikh
community.
"The first victim of racial violence after 9-11 was a Sikh. That's something very personal for me," Khalsa
said. "I want to see an end to this type of violence. Nobody in America should face persecution because of
their faith or appearance." he points to spiritual leaders like Mother Theresa and Martin Luther King as the inspiration behind
SikhsPAC.
But, there is also a personal story behind the group's formation.
In 2007. a TSA agent in Buffalo, N.Y. refused to allow Khalsa on an airplane unless he removed his turban.
This was a clear violation of Sikh religious practice. Khalsa refused and took the issue before Congress,
where he successfully lobbied for changes to the TSA headwear policy. Because of this effort, Sikhs are
now allowed to wear their turbans through airport security.
Khalsa is a regular speaker at national conferences on politics, interfaith relations and financial success. He has appeared before the US Conference of Mayors, the US Senate, the National Sikh Committee and
numerous college lectures on geopolitics and religious diversity. He currently supports three scholarship funds dedicated to his father, who died in a tragic motorcycle
accident.
SikhsPAC is devoted to three major platforms in Indiana politics.
SikhsPAC wants to see Sikh history taught in all public high schools in Indiana. SikhsPAC also wants to
raise awareness of Sikh culture and identity statewide. Finally, SikhsPAC wants to address ongoing
violence against Sikhs as a result of mistaken identity.
Moving into the future, SikhsPAC will be working to form additional political action committees in each
state and a single national PAC which will work directly with politicians in Washington D.C.
The group will also be funding seminars for and providing resources to members of the Sikh community
interested in learning how to run for public office.
The group currently has more than $500,000 in pledges for this election cycle. Five million in additional
pledges have already been made for next election cycle in four years.