A friend of the boy's family says the video is one more reminder of bullying that too many children face daily, regardless of religion or race.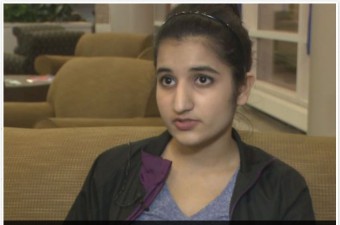 Aasees Kaur, a friend of the boy's family
(Photo: 11Alive News)
March 5, 2015: DULUTH, Ga. (WXIA) — A bullying video posted online by a Gwinnett County boy who wears a turban is approaching 1 million views — people around the world seeing and hearing some of his fellow classmates taunting him, calling him a terrorist.
Gwinnett County Schools released a statement Wednesday saying that the students were calling each other names; it does not say the boy was bullied.
The Duluth Middle School students were on their school bus. The 12-year-old boy who recorded the cellphone video is a member of the Sikh religion. The turban he is wearing is called a patka, common among Sikh boys.
He sits facing forward in his bus seat throughout the video, which lasts less than 45 seconds. He simply holds the cellphone up to show his classmates sitting in the rows behind him; he does not himself turn around to face them.
He begins the video explaining what he's sure will soon happen: "Kids being racist to me."
Within seconds, a girl a couple of rows behind him stands up, points her finger at him, and calls out, "Terrorist! Terrorist!"
Then she complains that he's recording it all on his cell phone: "Quit filming us, or we'll sue."
The boy responds, "I can't if you're being racist to me, (expletive)."
"It's really disturbing," said Aasees Kaur, a friend of the boy and his family, who lives in Dunwoody. She spoke Wednesday in downtown Atlanta.
"When I see it, I see ignorance, I see hurt," Kaur said, and she believes that the video shows a bigger problem — bullying that too many children face constantly, no matter their religion or race.
"It's very courageous of him to do it, because it shows what not only Sikh students [face], but what bullying looks like in our schools," Kaur said. "This is a wider issue, of lack of education, and that education comes from both home and school."
Gwinnett County Public Schools is not calling it "bullying," in a statement emailed to 11Alive News Wednesday. It reads, in part, "….there had been a series of back-and-forth name-calling incidents… between students…. The school… has taken appropriate disciplinary action with the students who were involved."
Another family friend said the boy who was being bullied was among those disciplined, because he used an expletive.
The boy's family is declining to speak publicly.
Aasees Kaur called it a possible learning experience for all the children, "to teach understanding, and to teach diversity, and to let these kids have positive interactions with people from every culture."
At the end of the brief video, as children continue to taunt the boy, he tries not to let it all bother him.
"Who cares? I don't care…"
And at that, the cell phone camera shuts off.
Kaur said the message to all children who are being bullied — there's no reason to be afraid to stand up for yourself, and to ask a trusted adult to help you make it stop.
"It's just heartbreaking to know that this kind of stuff is still being tolerated at some level in our school systems, it just amazes me," Kaur said. "It really displays the struggles of many students, what they face daily."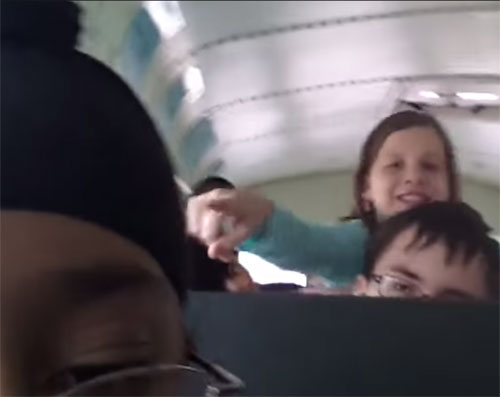 Here is the full statement from Sloan Roach of Gwinnett County Public Schools:
| | |
| --- | --- |
|   | This incident occurred the week of February 23 on a Duluth Middle bus. The school was informed of the incident on Monday, March 3, and became aware of the video. The school immediately began an investigation into the matter. |
| | |
| --- | --- |
|   | In talking to the students on the bus, school leaders were able to determine that there had been a series of back-and-forth name-calling incidents that had occurred between students. The school has concluded its investigation and has taken appropriate disciplinary action with the students who were involved. |
__________

From the Gwinnett County Public Schools' "Student Conduct Behavior Code"
RULE 5 – ABUSE, THREATS, INTIMIDATION, ASSAULT OR BATTERY BY A STUDENT ON ANOTHER STUDENT OR TO ANY OTHER PERSON NOT EMPLOYED BY THE SCHOOL
SECTION ARegardless of intent, a student shall not:
Make oral or written communication, create a document, or make a symbolic gesture or contact of a threatening, distracting, or provoking nature to or about a person/student or in the presence of a person/student. This includes, but is not limited to, bullying, disrespectful conduct, insult, use of profanity; ethnic, racial, sexual, disability, or religious slur; or harassment and includes the development of a "hit list", "people to kill", "people to shoot", or a statement about bringing a weapon to school and injuring people.
The prohibited behaviors below include but are not limited to the following:
5AA. Oral threat/Intimidation (fear of bodily harm)/verbal assault;
5AB. Written threat;
5AC. Rude and/or disrespectful conduct including but not limited to symbolic gestures and insults;
5AD. Bullying; (See note on bullying and state law below.)
5AF. Use of profanity;
5AG. Ethnic, racial, sexual, religious or disability slur;
*5AL. Harassment – Repeated words (verbal or written), conduct, or action that annoys, alarms, or causes distress and serves no legitimate purpose;
5AO. Posturing to fight;
*5AR. Terroristic threats (threatening to commit any crime of violence or to burn or damage property with the purpose of terrorizing another or of causing the evacuation of a building);
5AZ. Other: (list) ____________________________
State law defines "bullying" as: 1) any willful attempt or threat to inflict injury on another person, when accompanied by an apparent present ability to do so; 2) any intentional display of force such as would give the victim reason to fear or expect immediate bodily injury or harm; or 3) any intentional written, verbal, or physical act, which a reasonable person would perceive as being intended to threaten, harass, or intimidate that: a) causes substantial physical harm; b) substantially interferes with a student's education; c) is so severe, persistent or pervasive that it creates an intimidating/threatening educational environment; or d) disrupts the orderly operation of school. Upon finding that a student in grades 6 – 12 has committed the offense of bullying for the third time in a school year, such student shall be assigned to an alternative school. (O.C.G.A. 20-2-751.4) Retaliation for reports of bullying will not be tolerated and will be subject to independent disciplinary action.