Sher-e-Shamsheer: Guru Tegh Bahadur
A 360 degree project (2020-22)
2021 marks the 400th birth anniversary of the epitome of social justice, Guru Tegh Bahadur (1621- 2021). Guru Tegh Bahadur (1 April 1621 – 11 November 1675) was born at Amritsar and was the youngest son of Guru Hargobind. Guru Tegh Bahadur revered by the Sikhs as Srisht-di-Chadar (Protector of humanity), become Guru on 16 April, 1664 (till 1675), following the footsteps of his grand-nephew and the eighth Guru, Guru Har Krishan.
Tegh Bahadur was the youngest son of Guru Hargobind, the sixth guru: Guru Hargobind had one daughter, Bibi Viro, and five sons: Baba Gurditta, Suraj Mal, Ani Rai, Atal Rai and Tyag Mal. Tyag Mal (Master of Renunciation) was born in Amritsar. He came to be known by the name Tegh Bahadur (Mighty of the Sword), given to him by Guru Hargobind after he had shown his valour in a battle at the age of 13. A poet, a thinker, and a warrior, his one hundred and fifteen hymns are in Guru Granth Sahib. He spent his childhood at Amritsar. In his early years he learned Gurmukhi, Hindi, Sanskrit and Indian religious philosophy from Bhai Gurdas, and archery and horsemanship from Baba Budha while his father Guru Hargobind, Master of Miri and Piri taught him swordsmanship.
Guru Tegh Bahadur inherited his vision or world-view from his predecessor Gurus. He assumed the leadership of Sikhism nearly 200 years after its foundation by Guru Nanak. Before it was his turn to guide its destinies, the movement had taken long strides and developed its own ethos, its own philosophy of life, and its own institutions. All of them formed the heritage of Guru Tegh Bahadur. His vision, therefore, was the same as had already been propounded by Sikhism. He stood for the same moral, social and spiritual values as had been underscored by the previous Gurus. Still his writing which are incorporated in the holy Guru Granth Sahib of the Sikhs …have an identity of their own for the manner in which certain elements in the Sikh philosophy are emphasized and brought into focus.
In the vision of Guru Tegh Bahadur, as it emerges from his writings whose authenticity is established beyond any doubt, the central issue is the distinction between absolute truth and relative truth. Absolute truth is the only reality, the only lasting, permanent and eternal existence which gives substance to everything else. It is the God Almighty, Omnipotent, Omniscient, Omnipresent.
'Guru Tegh Bahadur: Martyr and Teacher', by Fauja Singh & Gurbachan Singh Talib, 1975
Guru Tegh Bahadur went on long journeys to instruct the sangats in different parts of the country and proclaim far and wide the message of Guru Nanak Dev. Guru Sahib made three travels totally; out of which third visit concluded a fairly extensive journey through Majha, Malwa and Bangar regions. The first halt during this journey was at Amritsar, followed by those at Tarn Taran, Khadur Sahib and Goindval. Crossing the Beas and Sutlej rivers, Guru Tegh Bahadur Sahib reached in the Malwa. He visited Zira, Moga and Darauli and then sojourned in the Lakkhi Jungle, a desolate tract comprising mainly present day district of Bathinda. This journey took Guru Tegh Bahadur up to Dhamdhan, from where he returned to Kiratpur.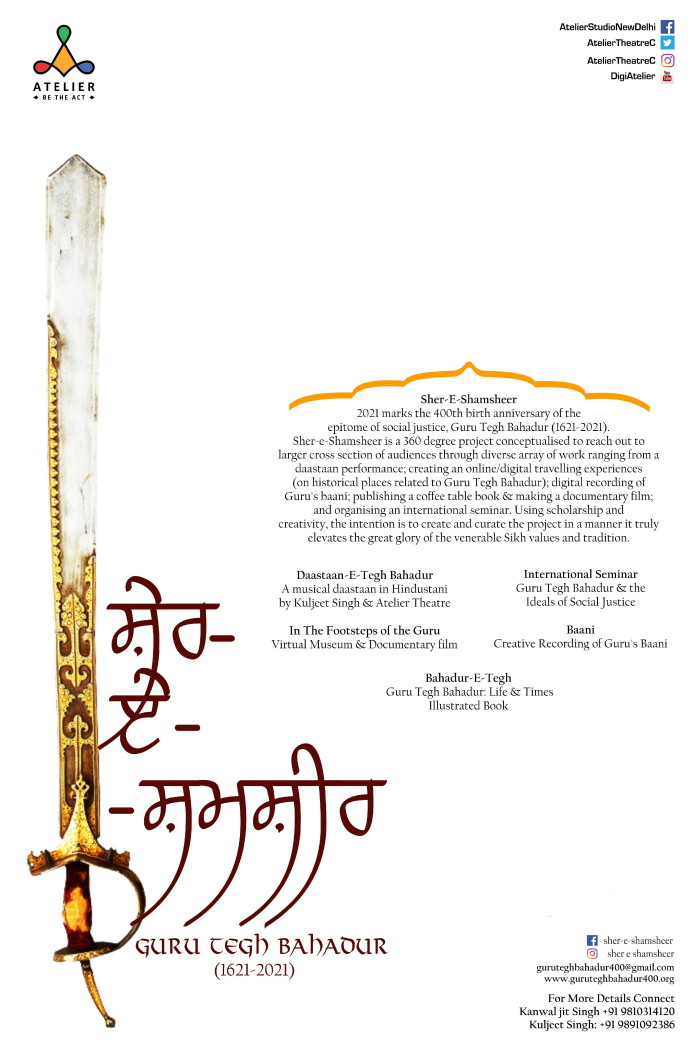 In order to mark the 400th year of Guru Tegh Bahahdur's birth anniversary, Sher-e-Shamsheer, as a 360 degree project, has been conceptualised to reach out to the larger cross section of audiences through diverse array of work ranging from a daastaan performance; creating an online/digital travelling experiences (on historical places related to Guru Tegh Bahadur); publishing an illustrated coffee table book; making a documentary film; and organising an international seminar. Using scholarship and creativity, the intention is to create and curate the project in a manner it truly elevates the great glory of the venerable Sikh values and tradition.
Daastaan-E-Tegh Bahadur: Performance
This will be the first event in the list of works: a flexible musical daastaan style performance enumerating the life and important events in the history of the Sikh people with focus on the ninth master, Guru Tegh Bahadur. The verses of the Guru in Guru Granth Sahib will be rendered maintaining Sikh maryada (code of conduct).
Oct 2020-March 2021: 70 shows across India and abroad
In The Footsteps of the Guru: Virtual Museum & Documentary film
This is the tentative name of the documentary film based on the historically important places where the ninth Guru Sahib spent time and travelled far and wide spreading the universal message of Guru Nanak. From the spiritual town he himself created, Anandpur Sahib to Baba Bakala to Assam, Bihar & Dhaka, this documentation will look at places, community and culture, and will serve in multiple ways: creating a virtual museum for public consumption and a documentary film.
Oct. 2020-June 2021: Travelling, shooting and editing
Baani: Creative Recording of Guru's Baani
Composing all the verses of Guru Tegh Bahadur enshrined in Guru Granth Sahib by maestros and young practitioners of music, this project will bring together a series of performances recorded professionally, shot in varied non-studio spaces.
July 2020: March 2021
Seminar: Guru Tegh Bahadur & the ideals of Social Justice
This international seminar will focus on need/meaning of Social Justice in the contemporary world through the lens of Guru Tegh Bahadur life and practices.
April 2021: Venue (TBD)
Bahadur-e-Tegh, Guru Tegh Bahadur: Life & Times I Illustrated Coffee Table Book
A connoisseur's work of art, the culmination of the project will be the coffee table book illustrating the life history of the Guru. The book will carry the odyssey of the master and document the literary contribution as well.
December 2021: India Habitat Centre, New Delhi
Besides the above, there will be an exhibition and several cultural functions to be worked upon during the course of the project.
_________________________________________________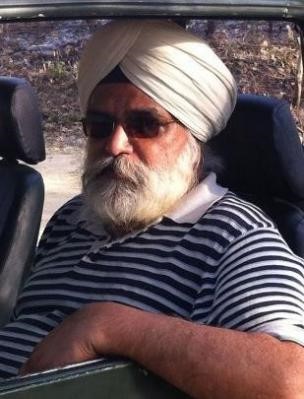 Kanwal Jit Singh: A lover of Music, an avid reader, a workaholic, traveler, recent biker, walker, a seeker and thinker

Kanwal was born and brought up in Delhi but the ancestral roots lie in Dera Ismail Khan of NW Frontier in Pakistan. With profound interest in music especially Gurmat Sangeet, he has vivid memories of having spent several summer vacations at Darbar Sahib in Amritsar with parents and listening to likes of Bhai Hari Singh, Bhai Gurmaj Singh and Bhai Balbir Singh. The love for music expanded into Indian classical music, folk music and western instrumental. He also attended live concerts in Delhi; Harivallabh, Jallandhar; and Saptak, Ahmedabad. Briefly learnt Pakhawaj, he had also volunteered for United Sikhs as a coordinator for various projects for Delhi Schools.
Sikh values and love for Gurbani Sangeet was, in fact, inherited. The commitment and passion for work and the career spread over 25 years as a sales marketing professional-turned-entrepreneur helped him raise from front line to a National-level sales head.
He is available at +91 9810314120 I

[email protected]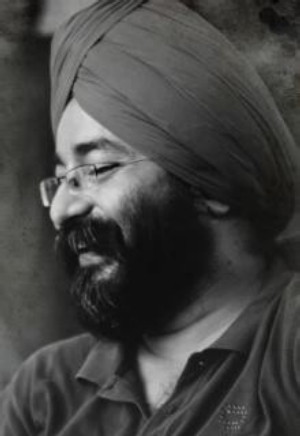 Kuljeet Singh: Author-Actor-Director-Teacher-Curator-Producer
Known for his performances in films like Margarita With A Straw (2015, Shonali Bose) & Breathe Into The Shadows (2020, Amazon Prime Original Web series), Kuljeet is the founder & Creative Director of Atelier Theatre (2004), a Delhi based theatre company. After teaching for a decade (2007-17) in the department of English, University of Delhi, he has dedicated himself full time to theatre & performing arts. His M. Phil dissertation thesis is on the history of theatre on the campus of the University of Delhi since 1924 from the works of St. Stephen's The Shakespeare Society. He is presently working on his doctoral thesis, which is a continuation of the study on Campus Theatre. 
Trained as an academic, Kuljeet has created a parallel realm for himself in the domain of theatre and more specifically performing arts. For the last decades, he has ably measured the turns and twirls of training, writing, acting, directing and curating.
Jaita, Sidhartha, Dillinaamah & 292 are the set of stories he has written for screen and wishes to develop them further.
He may be reached at +91 9891092386 I

[email protected]



———-
For more details, and for getting associated with the project, please free to contact Kuljeet Singh at 9891092386 or email us at [email protected]