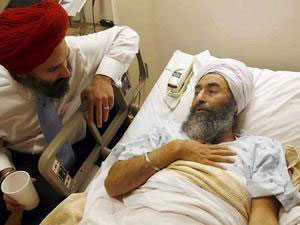 SEATTLE – It was just one year ago that Sikh cab driver Sukhvir Singh was badly beaten by a customer he picked up after the Apple Cup football game.
Singh vividly remembers the attack he endured at the hands of a drunken passenger.
"My turban went up and he grabbed my ears with both hands and bit me very bad back here," he said. "Says, you are in Iraqi terrorist. You did 9-1-1. And, I will kill you."
The attack was captured on the taxi's video camera and horrified members of the Sikh community, including University of Washington students Jay Singh and Paul Bassi.
"It affected us all really deeply as Sikhs to see this is happening right so close to home," Jay Singh said.
Despite a busy class schedule, the friends decided they needed to do something.
Their solution was to create an informational sheet about Sikhs for cab drivers to hang in their cars.
"The most important point to get across is that Sikhs are Americans, they're people just like you and I, who are working hard to put food on the table for their family," Jay Singh said.
The students decided the best way to distribute their placards was not to go through the cab companies, but through the Sikh community itself. So they went to a temple in Renton where they promptly handed out 250 of their placards.
"Week after week we'd go back and we'd hear, they'd come up to us and say hey, this is really great, can we get a few more, give it to our friends, you know?" Bassi said.
The first person to receive a placard was Sukhvir Singh, who had it in his cab for several months.
Some cab companies are concerned the signs violate city policy, but Orange Cab is now re-evaluating the decision to take them out of taxis.
Meanwhile, Jay and Paul say they hope their handiwork inspires others to take a stand when they see an injustice.
Luis Vazquez pleaded guilty to second-degree assault and malicious harassment in the attack on Singh. Earlier this year, he was sentenced to nine months in jail.