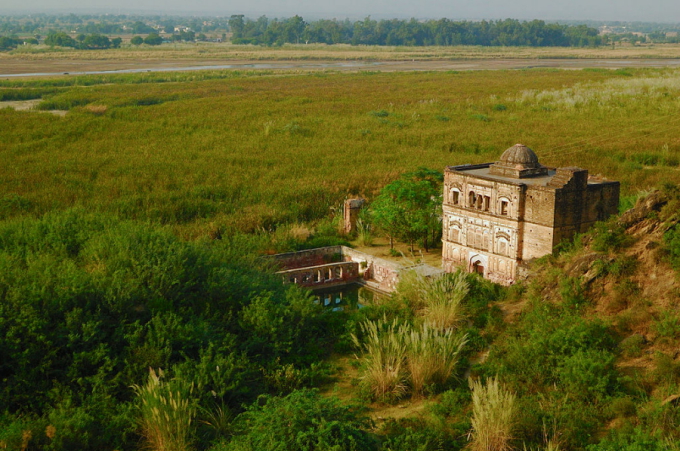 Qila Rohtas, in the district of Jhelum was built by Sher Shah Suri as a strategic fort in 1541. The fort layout is irregular in plan, as it follows the contours of its hilltop site. Sher Shah Suri was impressed by its strategic location on the highway, with the hilly terrain providing height and strategic advantage. He was also attracted to this site, because of the secure water supply in form of baolis (stepped well). So, this strategic fort became a overlooking the highway, was in active use till 1707. Today, it is a UNESCO World Heritage Site. It has endured storms, vagaries of weather and normal age related wear-tear without any significant damage.
So, what is the connection of this fort with the historical Sikh shrines in Pakistan? This piece of history is not common knowledge. At least I was not privy to the history, before my visit to this shrine. According to the history, Guru Nanak Dev Ji along with Bhai Mardana came to this site following a 40-day stay at the nearby Tilla Jogian. There, at Tilla Jogian Guru Ji had discussions with Jogis and their leader Bal Godai. It is said that after twenty-five years of the visit by Guru Ji, Sher Shah started the construction of the fort here. Guru Ji and Bhai Mardana were traveling during the summer, and Bhai Mardana expressed his thirst while lamenting that water was scarce in the region during that time of year. There were small streams in the area which flowed only during the rainy season, but there was just glittering sand during the summer month. He asked Guru Ji to give scour to humans, animals and birds with abundant supply of fresh water. Guru Ji told Mardana Ji, "Wait! Somebody else is coming with same request." Just then Bhai Bhagtu with a delegation of villagers showed up and made the same request for water. Bhai Bhagtu pleaded that the water was sparse and not potable.
Guru Nanak is said to have then struck the earth with his cane and moved a stone, there a natural spring started flowing. The engineers of Sher Shah Suri attempted to shift the spring up the hill to be used as a source of water for the newly constructed Rohtas Fort. The king's engineers attempted the feat three times, failing each time as the spring could not be restrained by the walls of the fort. The spring defied the restraining efforts to be confined to the fort and was available to all.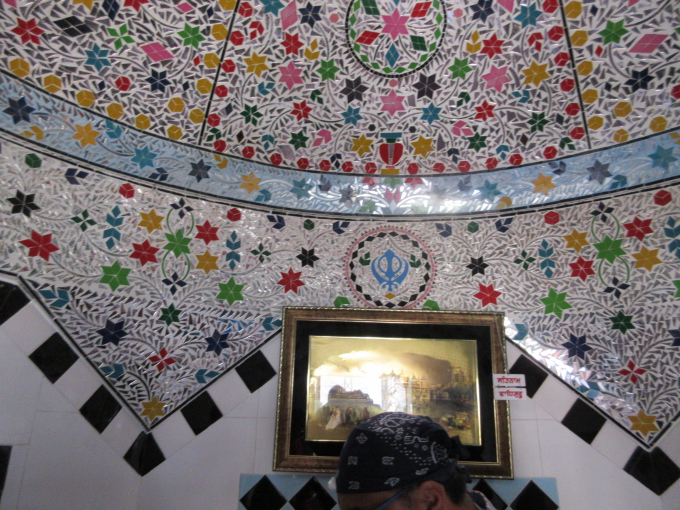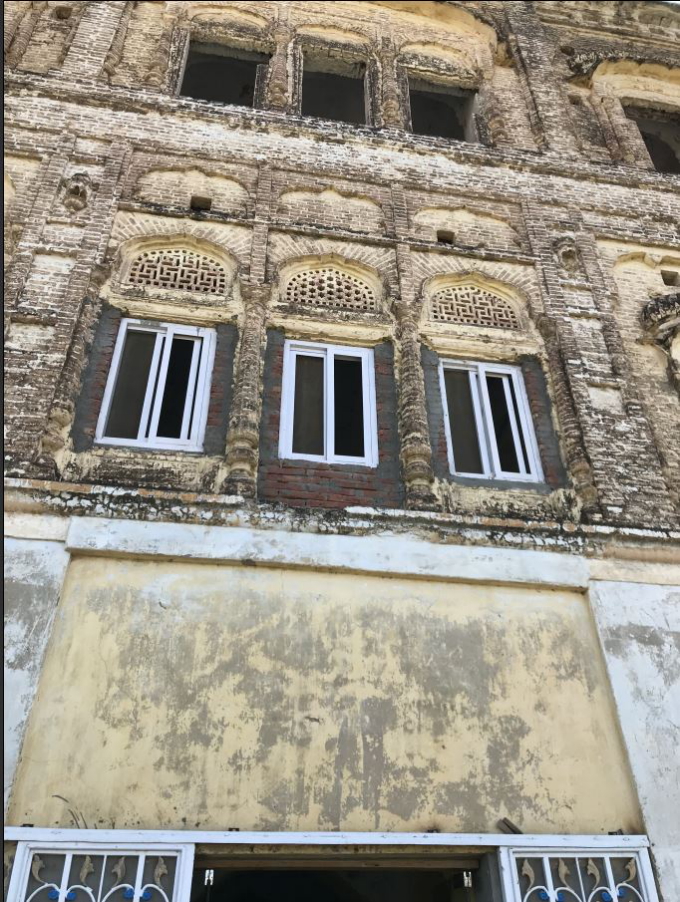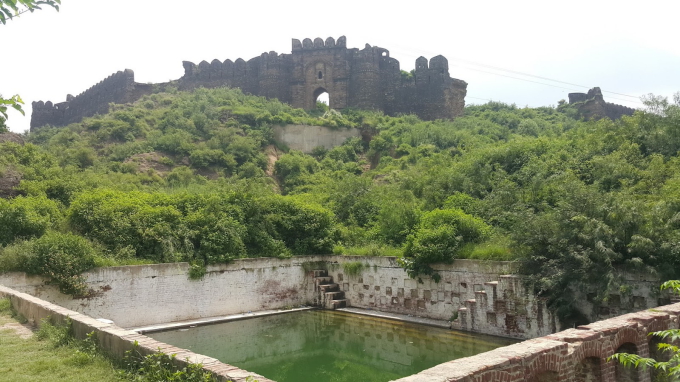 The Choa Sahib Gurudwara was the name given to this historical place as the word means spring. Some writers spell the word in English as Chowa. The current building dates from 1834 AD and was commissioned by Maharaja Ranjit Singh. Just as the efforts to tame the spring and make it a private property as part of the fort were not successful, same way the message of Guru Nanak Dev Ji is out of bound of any physical confines and is available to all beings for their welfare.
The Gurudwara building is in dilapidated condition and in urgent need of renovation and upgrades. However, for this shrine to revive and survive the vagaries of weather, time and age, it will require steady inflow of tourists. This shrine needs to gain recognition and become a part of tourist circuit for Sikh historical shrines. At present this historical shrine is not on the radar of historical shrines, nor is it in common knowledge of the Sikhs. That perspective will have to change, and we will have to make concerted efforts for it.
So, far we have been talking about the shrine in Rohtas in memory of visit by first Sikh Guru Nanak Dev Ji. But this place also has another special association with the tenth Guru Gobind Singh Ji. It is birth place of Mata Sahib Devan, wife of tenth Guru who was later known as Mata Sahib Kaur. Mata Sahib Kaur was born on November 01, 1681 to Mata Jaidevi and father Bhai Ramu Bassi. Her father, who was an ardent sewak (Sikh) of Sri Guru Gobind Singh Ji, influenced Mata Sahib Devan to the extent that she wanted to devote her whole life in the service of the Guru Sahib.
According to Gyani Jhujhar Singh "Azad" in his book "Mata Sahib Kaur: Khalsae Di Mata" the entire family of Mata Sahib Devan visited Gurudwara Choa Sahib to thank Guru Nanak Dev Ji for the boon of child after her birth. Today, there is single room domed memorial with cut mirrors work inside. There is no Parkash of Guru Granth Sahib there as there is no one to take care of that on daily basis. The birth place is inside the main gate of the fort. The rest of memorial which was renovated by Maharaja Ranjit Singh however became a victim to encroachments, after it found itself abandoned, a victim of partition of the nation in 1947. But the fact that Mata Sahib Kaur is the mother of entire Sikh community, thus by default this place is maternal home of the Khalsa. There is not published information on the life or contributions of Mata Sahib Kaur.
What we know is that when Guru Gobind Singh had completed the preparation of nectar by reciting five hymns (banis) and stirring the water from River Satluj in a steel bowl with a double-edged Khanda (sword) Mata Sahib Kaur walked in. She came with a bag of puffed sugar cakes called "Patasas" and stood waiting for Guru Ji. Guru Ji said; "Welcome Sweet Lady! You have come at opportune time, when your gift is most needed. Valor and courage, without the sweetness of the soul means nothing. Pour your sweetness into the nectar; so that the Khalsa may be blessed not only with valor and courage, but also with the grace of woman's sweet soul." Mata Sahib Kaur emptied the bag of "Patasas" in the steel vessel, sweetening the Amrit – the life giving elixir. This nectar that was thus prepared and sweetened was administered to the five who had offered their head to Guru Ji call for head. By partaking of the nectar Khlasa was created by Guru Ji. It was on that day Mata Sahib Kaur was bestowed with the title "Mother of Khalsa".
Now, we have two historical connections with the city of Rohtas, and we will have to bring this history alive by connecting with it. It is place which received touch and blessings from our First Guru. It is also birth place for the mother of Khalsa. So, let us visit this place on the Mother's Day and on Mata Sahib Kaur's birth day on November 01.
Related articles:
Quest for Khuley Darshan – Part 1: Kartarpur
Quest for Khuley Darshan – Part 2: Janam Asthaan
Quest for Khuley Darshan – Part 3: Sacha Sauda
Quest for Khuley Darshan – Part 4: Birthplace of Langar
Quest for Khuley Darshan – Part 5: Bed of Stones
Quest for Khuley Darshan – Part 6: Birth of Martyrdom
Quest for Khuley Darshan – Part 7: Mother's Birthplace
Quest for Khuley Darshan – Part 8: Panja Sahib
Quest for Khuley Darshan – Part 9: Baba's Tree
Quest for Khuley Darshan – Part 10: Nanaki's Birthplace
Quest for Khuley Darshan – Part 11: 4th Guru Birthplace
Quest for Khuley Darshan – Part 12: HotBed of History