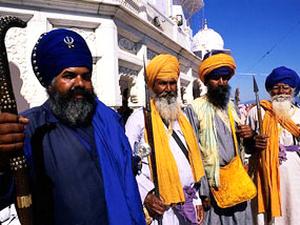 Sexagenarian Takhat Singh Joone caresses his muzzle-loader handmade gun proudly and, aiming through his hazy spectacles, smiles: "We have a glorious past." Much of that, he says, is presently buried under his tribe's impoverishment.
Asking his grandson to clean the gun and keep it back in his room, Takhat Singh says he owned a licence till recently, but the police are not renewing it.
As he gets back to hammering iron sheets into swords, daggers and kitchen implements, Takhat Singh points to his old hut as if it were a memorial to show outsiders how his tribesmen lived in inhuman conditions for centuries, until a rich man turned up with aid and built them good houses.
It's only been six months that he has moved a few inches behind his old structure into a one-room-kitchen cement house that bears the sign of a UK charity, Forkel Aid, run by Sikh NRI businessman, Surender Singh Nijjar.
Other conditions in this dera of about 150 households remain the same. There's no work, no money and no education, as the residents lead a hand-to-mouth existence, with no escape from perpetual poverty.
Only a few of the houses fall on legal land holdings; the rest are on encroached land, says Bharat Singh Tak, the only educated man here. A science graduate, he's a sitting member of the local gram panchayat.
"I've deliberately kept the old structure as a reminder of our plight," says Takhat Singh, whose surname Joone is perhaps indicative of his family being the oldest here. His father, Khadak Singh, turned 100 years old here.
Peering through his thick specs, an ebullient Takhat Singh keeps aside his work and laments that the trade no more fetches the income to make ends meet.
This is the ghetto of a tribe called Sikkalgar, at Talegaon in Wardha district, off the National Highway 6,100 km from Nagpur. Believed to be derived from Persian, the title of Sikkalgar (meaning those who manufacture and polish iron weapons) was bestowed on them by one of the 10 gurus of the Sikhs.
Adorning the customary five ks — kesh, kangha, kirpan, kachcha and kada — that define a Sikh, Takhat Singh swears by the gurus and the Granth Sahib, but is unlettered and very poor, like all his tribesmen in this ghetto.
Bharat Singh says they fall under the Nomadic Tribes, but are numerically and politically too weak to derive any benefits. Yet, impoverishment hasn't faded the pride and self-esteem of the old man, or of any of the young descendants, as Takhat Singh informs: "We are the descendants of Guru Gobind Singh's artillery men."
As the Sikhs gear up for the Guru-ta-Gaddi celebrations in Nanded, the Sikkalgar tribe is caught in a time warp, living in isolated pockets scattered across central and eastern Maharashtra. "We'll all be there for the tercentenary celebration," Bharat Singh says, as the Sikkalgar families sit hunched outside their huts, bathed in sweat, giving shape to the raw iron strips.
It's been like this for centuries, says Takhat Singh. Recollections are incoherent, but it is believed that their ancestors were brought over from Rajasthan by the Sikh gurus because they were exceptionally skilled in making swords and spearheads.
When Gurudwara Hajoor Sahib was established at Nanded, several hundred families of Sikkalgars were brought in. Nanded then formed a part of the estate of the Nizam of Hyderabad. It was perhaps the threat from the Muslim Nizam that prompted the Sikh gurus to summon the services of the sword craftsmen. As time passed and their numbers grew, Sikkalgars had to fend for themselves.
"Our ancestors would buy iron strips in Hyderabad, turn them into swords and daggers, and sell them in the villages around Nanded," Takhat Singh recalls.
The Sikkalgars fled Nanded during the communal riots in 1947-48, fanning out all over Marathwada and Vidarbha, says Bharat Singh. Local farmers would hire them to protect their fields. "We are very poor, but the one thing we've been able to uphold, always, is our honesty and character," he says.
For their livelihood, they still depend on what they've been doing for centuries — selling swords, daggers and guptis. Youngsters between eight and 15 market their wares on the highway and at the Talegaon bus stand.
Ironically, the most trusted lieutenants of the Sikh gurus have fallen into the bad books of local policemen. "Each one of us has cases against his name," says 38-year-old Nanak Singh. But the Sikkalgars hold no grudges against the cops.
Stuck to a centuries-old desolation, the hard-working Sikkalgars want to travel with time to end their poverty. They only await an opportunity.
By Jaideep Hardikar