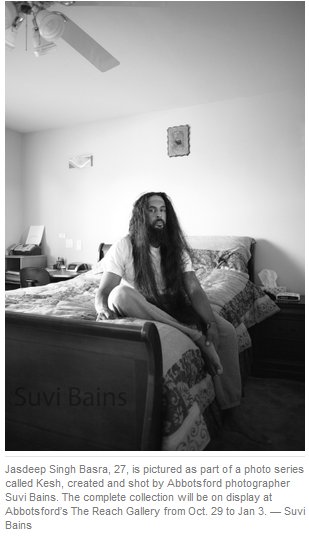 October 21, 2015: Abbotsford's Suvi Bains had never seen a Sikh man ­— other than her balding grandfather — remove his turban.
So when a friend unravelled his unshorn hair from the covering during a trip to Harrison Island earlier this summer, the 27-year-old photographer was in awe.
"(It was) so stark and beautiful," Bains said. "Stark, gorgeous long hair. I was very touched by it and I wanted to explore."
And so her latest photo project, Kesh (soon to be displayed at the Abbotsford gallery The Reach) was born. The exhibit features six intimate life-size portraits of three Sikh men in their bedrooms, their long unshorn hair — an article of faith to Sikh men — out in the open.
"(Kesh) pushes the boundaries of what is socially acceptable in the culture," Bains said, explaining that a Sikh man's hair (which remains uncut because it represents their spirituality) is never seen in public. Only those in his family home might see it, but if he goes out, or company comes over, his turban goes on.
Because it's such a "personal and private" part of Sikhism, her summer inspiration took months to come to fruition. Bains originally started the project with 15 Sikh men — all friends or acquaintances — in mind. After three months she was down to three, as most, understandably, weren't comfortable, she said.
"In our culture you don't just go in someone else's room and take these kind of personal photographs," said Bains. "I am a woman coming into their house, in their private room and taking these images.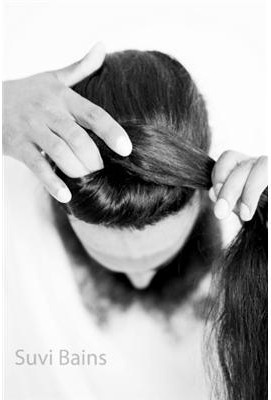 Jasdeep Singh Basra, 27, is pictured as part of a photo series called Kesh, created and shot by Abbotsford photographer Suvi Bains. The complete collection will be on display at Abbotsford's The Reach Gallery from Oct. 29 to Jan 3.

Photograph by: Submitted photo, Suvi Bains
"It was hard at first and definitely awkward," she said of the actual photo shoot.
One of Bains's subjects, Ishpreet Singh Anand, an exchange student from India, admits he was "apprehensive" about participating at first. Only his mother, father and brother back home in Punjab have seen his unshorn hair.
But he realized the project will only raise "awareness about what the religion is, what the principles are."
"There is a positive message she's spreading with this photo exhibit," he said.
And that's exactly Bains's intention: to showcase this "very unique side of our culture" in order to promote understanding, spark dialogue, address the "what's under there" question about the turban, as well as challenge cultural stereotypes.
"It's all about (asking) questions," said Bains. "And just to be open really."
Kesh runs at The Reach Gallery Museum Abbotsford from Oct. 29 to Jan. 3.