Related Posts
June 13, 2009 ·  In the high desert town of Espanola, N.M., you'll find a community of American Sikhs — converts to the 500-year-old Sikh religion from India. With a gold-domed temple as a backdrop, men and women live quiet lives of meditation, yoga and vegetarianism.
They also run a big business.
Next to the elaborate temple is a cluster of drab modular buildings that constitute the headquarters of Akal Security. The reach of this Sikh-founded and Sikh-managed company is huge.

In most cities across the country, for example, the guards who run the metal detectors at the doors of federal courthouses work for Akal Security.
In just the past three years, Akal and its subsidiary, Coastal International Security, earned more than $1 billion in federal contracts. In addition to screening people at federal courthouses, Akal also guards immigration detention centers, NASA facilities, federal buildings in Washington, D.C., and embassies under construction from Ecuador to Iraq.

Origins Of Akal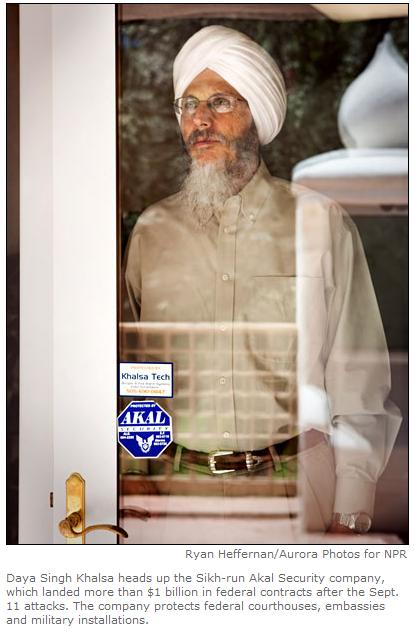 "Akal means undying or deathless," says Daya Singh Khalsa, president of Akal Security. "It was a battle cry for Sikhs."
Like most Sikh men, Singh Khalsa wears a turban, and on religious occasions he carries a kirpan, or sacred sword, a symbol of the Sikh warrior-saint tradition of defending the defenseless. To this day, this tradition is at the philosophical heart of Akal Security.
"We feel very good about the role we play to keep thousands or hundreds of thousands of people safe when they visit federal facilities," Singh Khalsa says.
Yet, as president of a major security company that employs 10,000 guards, Singh Khalsa has to take pains to keep religion and business separate. "We're here to run a business," he insists. And because federal contracts prohibit guards from wearing headgear, you won't see any Sikhs manning the metal detectors.
Akal is a private for-profit company. When asked where all the profits go, Singh Khalsa says they're reinvested in the company; individual Sikhs who work for Akal make generous donations to Sikh Dharma, the nonprofit religious organization.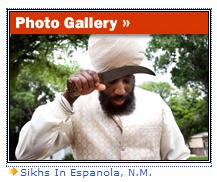 Sikh Dharma Of New Mexico
Espanola is the largest community of American Sikhs, composed of about 150 families. It was founded by Yogi Bhajan, a Sikh yoga master who came to the U.S. from India in 1968 to teach kundalini yoga. By the time he died in 2004, Yogi Bhajan was recognized as the founder and spiritual leader of what are now loosely called "Western Sikhs," to distinguish them from their Indian counterparts.
Akal president Singh Khalsa was born Daniel Cohn, the son of a New York department store executive; he grew up in the Connecticut suburbs, graduated with an English degree from Amherst College, and drifted to the then-new Sikh colony in New Mexico to pursue his interest in yoga and meditation.
All Western Sikhs have the last name Khalsa, which means "purity."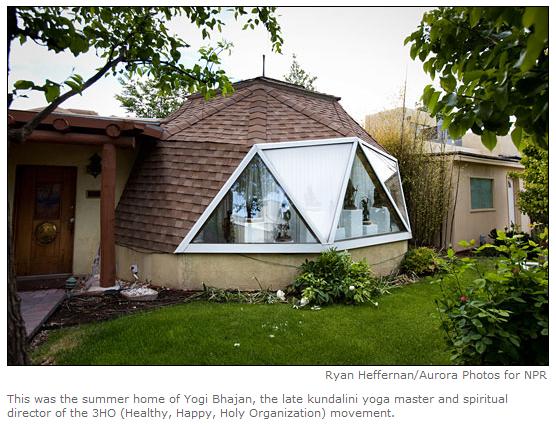 The life of a devout Sikh is rigorous: up at 4 a.m. for a cold shower, then 2.5 hours of prayers and meditation. They do not drink alcohol or eat meat. And no one gets a haircut — ever. Their hair is coiled under their turbans.
Rules that prohibit Sikhs from joining American law enforcement because they don't cut their hair may be softening. Last year, the Espanola Police Department hired its first bearded, turbaned policeman — Officer Khalsa — though he has since moved on.
Five years after the death of their spiritual leader, the Sikh community in New Mexico appears to be healthy. Some families have moved away; others have come. Akal has lost some business, but there is always next year. And in an alcove inside the gold-domed temple, there is someone — day and night — reading the sacred songs of the Sikhs.
Sikh Ethnic (ਕੌਮੀ) Tick-Box Court Case in the UK
The Queen on the application of Gill v Cabinet Office.
In December 2019, on the basis of the evidence presented, UK High Court ruled that Sikh application was premature. Sikhs are now told by the Cabinet Office that they are too late!
Despite centuries of Anglo-Sikh relations, are British Sikhs victims of institutional racism over the last few decades in the UK?
Good Sikhs are also loyal citizens of the countries they live in. However, they will always challenge injustice and institutional racism wherever they live. That is their Sikhi duty and democratic right
"If the census order approved by the UK Parliament is "quashed" and redesigned with a Sikh  ethnic tick-box, it will delay the entire census being carried out by a full year and cost a quarter of a billion pounds…. the Cabinet Office has told the high court here." (Times of India, 24 October 2020)
Some cost analysts are completely bewildered! How did senior officials at the Office for National Statistics (ONS) arrive at that figure of "a quarter of a billion pounds" and presented it in evidence under oath?
According to one source, "The 2020-21 published estimates for the UK Statistics Authority indicate the spend on staff costs up to 31 March 2021 will only be £36 million higher.  After taking account of pay rises and non-census related costs, for example, additional work associated with COVID-19, it is reasonable to assume the total cost of employing additional staff for the census that is currently underway would be no more than £30 million up to 31 March 2021." 
So, let us say total additional cost of under £50 million. That is a long way off from a quarter of a billion pounds stated by ONS!
This evidence under oath is against UK Sikhs being granted their legal right  established in the House of Lords Mandla case in 1983 to be accepted as an ethnic community against clearly defined criteria. The Cabinet Office does not question this because that is an established legal fact. Only a few misguided Sikhs question this classification of Sikhs, otherwise in according to their historical right as a "nation" at par with other categories in the Census like Indian, Pakistani, Bangladeshi etc.
Over the last few years, the same ONS officials have been going through the motions of consulting the Sikhs about the need for an ethnic tick box  for improving statistics to inform government policy and allocation of resources. Should Sikhs be punished for alleged bias by the ONS officials if it is shown by evidence before the court that for reasons known only to themselves – although, UK Sikhs have a fair idea! – they have failed to follow due process in the case of the Sikhs?
They have misled the Sikhs. On the evidence presented, the UK High Court ruled that Sikh application was premature in December 2019. In May 2020 the Sikh Federation's solicitors asked the Office for National Statistics (ONS) to confirm that no irreversible steps were being taken to progress the 2021 Census prior to the conclusion of the judicial review proceedings.   The ONS ignored this and pushed ahead with preparations for the Census in March 2021. That evidence is before the court.
In the UK, once again, British Sikhs are making history. For the second time within an year, they are taking their case to the law courts to be recognised, counted and monitored as a distinct community. The key to such recognition is the ethnicity tick box in the Census. The same ethnic categories of communities classified as Indian, Pakistani, Bangladeshi etc are also used by thousands of public bodies to assess community needs. Not RELIGION, as is being misleadingly suggested by some.
Sikhs regard it as their democratic right to challenge injustice and institutional racism wherever they live.
The case is a glaring example of prolonged institutional racism against one of the most loyal and hard-working UK communities, least dependent on the state and making a massive net positive contribution to the UK economy. Senior politicians of all parties never tire of repeating that from Gurdwaras stages. Yet, the expensive choice of quashing the census order approved by the UK Parliament and related costs has been put to the court now in evidence against allowing the Sikhs their just and legal right to own "ethnic" tick-box so that they are no longer lost in statistics! The simple fact is that if you are not counted you do not count!
The Sikhs have argued that the delay in filing the second application is entirely due to the biased and careless process followed by ONS vis a vis the British Sikhs.
Sometimes it is possible to look at linked current topics through the same lens. On the forums, there is a heated debate about the role played at critical times in history by prominent Sikhs in key positions. UK is no exception as the background to this case suggests.  Did some Sikhs become tools of the state and the administration to promote themselves or did they stand up for Sikhi principles and did what was right for own community, the country and the people?
In the UK we do wonder who are the true "Friends of India". There is a mistaken belief sometimes that to look after the lawful interests of own community one has to make a choice between community and country. Yet, it does not take much reflection to see that what is in the best interests of own community cannot be bad for other sister communities and the country.
If a conflict is seen by those in pivotal roles, then either the concept of what is in the best interest of own community is misplaced, or the conflict is not with the country and its people but with some form of bad government. Those who let down own community at critical junctures in history will be judged harshly by history.
Some thoughts as we wait for the judgement in the case of The Queen on the application of Gill v Cabinet Office.
Gurmukh Singh OBE
Ret'd Senior Civil Servant UK
E-mail: [email protected]