Last year, Sikhnet had a really fun Script Writing Contest and we received many creative stories from kids and adults of all ages. We have been looking forward to the day we get to release one as an animation, and that day is nearly here! On May 15th, we will release the new story and animation, Can Trees Grow Overnight? by Hunar Kaur Bhatia in the junior category.
Hunar Kaur is 10 years old and lives in the UK with her mom, dad and little brother. She is the winner of the 2019 SikhNet Script Writing Contest in the junior category. Here's what she said about her remarkable story Can Trees Grow Overnight? in a recent interview when we asked her about her inspiration.
"The main part of the story was that the earth was really thirsty for seva from us, and we had to take the role of Bhai Kanhaiya ji and feed the earth with kindness like he fed the wounded soldiers with water – even the enemies."  –Hunar Kaur Bhatia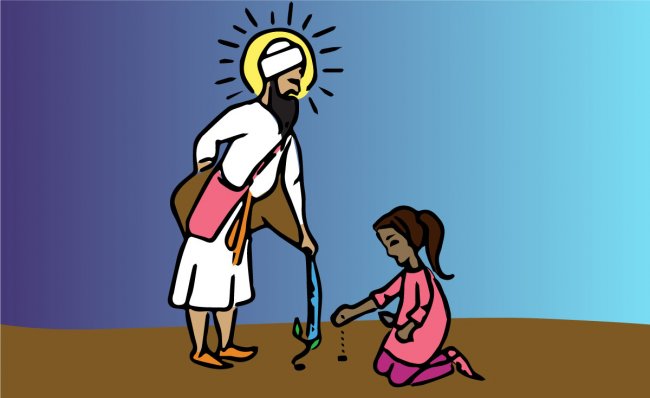 This timely story, inspired by the pressing environmental concerns and global warming of our planet takes a spiritual activist approach and tells of a young girl's devotion and the divine guidance that came to her from God along with the miracle that followed when she combined faith with action. It teaches us about the Guru's message of seva without discrimination through invoking the energy and spirit of Bhai Kanhaiya ji, seeing God in all, and the importance of taking responsibility for our actions and caring for our planet, Mother Earth.
~~~~~~~~~~~~~~~~~~~
P.S. The story of 'Kaur' that Hunar mentions is a retelling of the epic courage of Mai Bhago that empowers a modern girl 'Saibhang' to ultimately become an astronaut. Learn more about it here: kaur.sikhnet.com