Hijabs and Turbans Are Not a Threat to Sports



Source link
Related Posts
Below is a playlist of 35 Street Parchar videos by Basics of Sikhi. Enjoy.
I've always been puzzled by the fact that Sikhism is the 5th largest religion in the world, and almost everyone I've met before, didn't know about it. I think there is a huge disparity of general public knowledge of Sikhism. This may be because we don't proselytize, but are Sikhs autonomous to a fault? Does it take tragic events like Oak Creek to happen for the general public to gain knowledge about us? 
You may have come across a youtube channel called "Basics of Sikhi". The kathavachak (speaker) Jagraj Singh has done something innovative… He talks about Sikhism… to anyone.
When I saw his series on street parchar I was excited. Jagraj Singh talks to London passerbyers and engages them in spiritual conversation. Without pressure, he lets them know what Sikhi is all about. 
I think what Jagraj Singh is doing is exactly right. While Sikhs don't preach and proselytize, there is nothing wrong with informing others. 
Not only is his bold approach great, I also love what he is saying. As I watch his videos I've found myself agreeing with everything he says. Which, unfortunately isn't always the case when listening to kathavachaks these days. To me, it seems that there are lots of different opinions and interpretations about Sikhi. If Sikhism was a business, our PR department would be a mess. We would have no consistent policies on things. It would be a free-for-all of random opinions. Our customers would get one answer from one employee and a different answer from another employee. This is where I appreciate Jagraj Singh. I think he has broken Sikhi down in interesting, easily digestible pieces. These pieces are coherent, and generally public friendly. In the simplicity of this approach is beauty. As with anything the essence lies in the basics.
Not only that, but the videos are super interesting. I think of myself as being fairly knowledgeable about Sikhi and capable of explaining it to others, and I've learned a lot from these videos. I've learned more about Sikhi, and also about communication. 
As Harnek Singh and Rasna Kaur pointed out in their film, if every Sikh were to educate 300 people about Sikhi, then statistically everyone in the entire world would know about this beautiful lifestyle. Maybe some day there will be more of us doing this kind of seva. And maybe we can use Basics of Sikhi as our template. 
Waheguru ji ka Khalsa, Waheguru ji ki Fateh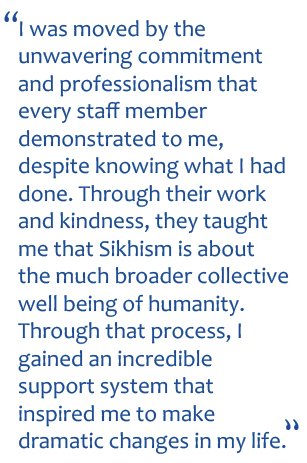 December 18, 2014: In the early morning hours after September 11, 2013, I got drunk and assaulted an innocent Sikh man. I charged him, forcefully knocking off his turban. He had done nothing to warrant my actions, I had simply hit rock bottom with my career and my drinking. He was simply in the wrong neighborhood at the wrong time.
After the assault, I fled.
The victim chased me and once the police arrived and I had sobered, I immediately knew I had done something horribly wrong; however, it never dawned on me that my assault could be prosecuted as a hate crime.
At the request of the Sikh victim I assaulted and the Sikh Coalition's legal team, I was given 72 hours of mandatory community service. To my great surprise, the Sikh Coalition requested that I spend those hours volunteering with them. Over four months, those hours would permanently alter the course of my life.
During the time I spent with my Sikh colleagues, I was shocked to learn about the severity of the hate crimes, profiling, discrimination, and school bullying that the American Sikh community faces every day. The stories I heard, which now included my own, put my own problems to shame.
The Sikh Coalition's work also encouraged me to look back on my own education and how it contributed to my prejudice. I grew up in an area of the country with some diversity, went to what many would call an "elite" university, but I understood very little about the Sikh faith and community. The education work the Sikh Coalition is doing across the country, like the recent textbook victory, is the critical first step. Policies won't change until individuals change. I can speak to that firsthand.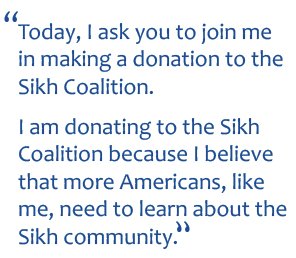 I was moved by the unwavering commitment and professionalism that every staff member demonstrated to me, despite knowing what I had done. Through their work and kindness, they taught me that Sikhism is about the much broader collective well being of humanity. Through that process, I gained an incredible support system that inspired me to make dramatic changes in my life.
One year later, I have stopped drinking, I have a steady job, and I have continued to volunteer for the Sikh Coalition well past my mandated hours. I am an example of how working towards a cause bigger than yourself can truly change you, and the ripple effect that will follow. I will never forget the pain I caused, but the Sikh belief in restorative justice has turned my regretful actions into another voice advocating for change.
My journey over the past year is a testament to the work that the Sikh Coalition does. You must do everything you can to financially ensure that this good work continues in 2015 and beyond. Today, I ask you to join me in making a donation to the Sikh Coalition.
I am donating to the Sikh Coalition because I believe that more Americans, like me, need to learn and support the Sikh community. I am donating to the Sikh Coalition because Sikhs, like the man I assaulted, need an organization to provide legal support. I am donating to the Sikh Coalition because this community needs an organization that remains relentless in the pursuit of educating others.
I needed the Sikh Coalition's help, and now the Sikh Coalition needs you.
Chardi Kala (in eternal optimism)!
Alex D.
The Sikh Coalition has agreed to use a pseudonym to protect the true identity of the author.