Her son was bullied for his Sikh head covering. Then he explained his faith on TV


Her son was bullied for his Sikh head covering. Then he explained his faith on TV



Source link
Related Posts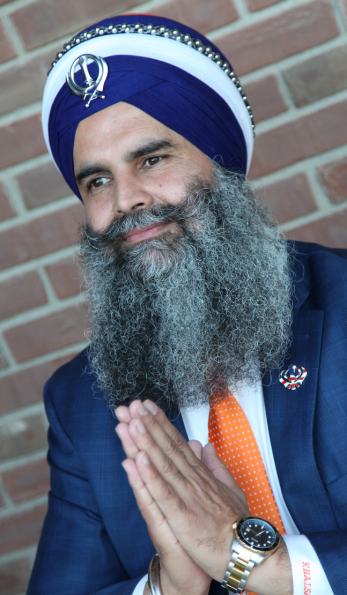 The Fight For Freedom Of Religious Expression To Be The Subject Of New Film "SINGH" scheduled to release January 19, 2019
Gurinder Singh Khalsa is selected for the ROSA PARKS TRAILBLAZER AWARD, presented by Indiana Minority Business Magazine at the 2019
Champions of Diversity Awards
INDIANAPOLIS – For too many people, it might seem to be a simple request. To Gurinder Singh Khalsa, it was an affront to his faith and forced him to make difficult choices between his lifelong religious beliefs and his family. This request, the choices he made, and the resulting Congressional actions are the subject of a new short film, "Singh," currently in post production in Indianapolis.
"It was 2007 and I was needing to fly from my home in Buffalo, New York, to visit my sick mother in Sacramento," said Khalsa, SikhsPAC Chairman and community leader in Central Indiana. "As I went through the TSA's security screening, the agents asked me to remove my turban. I refused. In the Sikh culture, the turban is a cherished article of faith which cannot be removed in public.
"We are a peaceful people with a belief system based on honor, integrity, justice, and helping our fellow man. Sikhs will do most anything that is fair and ethical to serve our communities," Khalsa added. "But as with all religions, there are sacred traditions that we cannot and will not violate. Wearing our turbans is among the most sacred traditions we observe."
Khalsa found himself in an almost unresolvable dilemma. How would he choose between adhering to his strict religious beliefs and painfully forgoing those beliefs in order to visit his ailing mother thousands of miles away?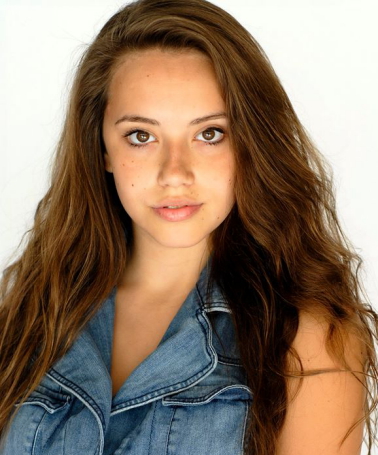 "The new film, titled 'Singh', explores how Gurinder faced this challenge, creatively found a short-term solution that did not go against his religious beliefs, and worked to achieve a long-term solution that affects countless people each day," said Jenna Ruiz, director of the film. "It's one man's real-life story. But more than that, the film will shed light on the true vulnerability and fear that comes with being racially profiled and what it is like to be made to choose between religious beliefs and everyday life."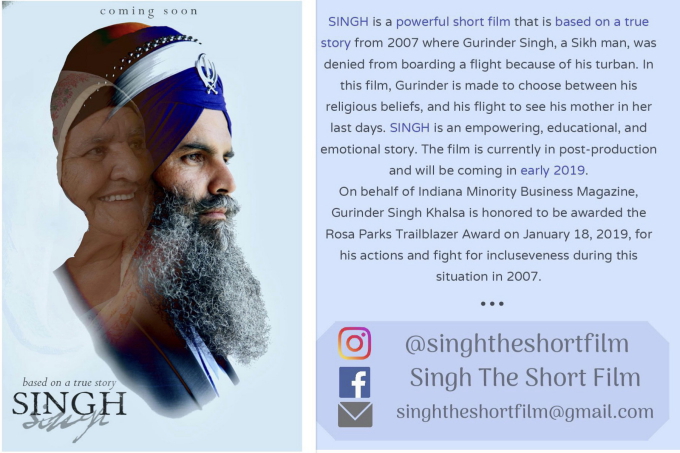 The film will also serve as an introduction of the Sikh religion to many of its viewers. "I plan to use this platform to educate people on who the Sikh people are and who they are not, while washing away stereotypes and negating the unnecessary fear that many people have regarding turbans and other articles of faith," Ruiz said. "I hope that the audience will leave this film with a newfound love and respect for not only the Sikh religion, but for people and beliefs that are different from their own." Khalsa added that "people fear the unknown. Our hope is that this film and my story will encourage people to gather information, ask questions, and speak openly and honestly about issues of faith and community. That's how we, as Americans, will overcome racial bigotry and defeat religious persecution."
So how did Khalsa address this incident, both at the time and during the following year?
Spoiler Alert! Immediately after reaching the impasse with the Buffalo TSA agents, Khalsa drove to Toronto and caught a Canadian flight to Sacramento so that he could visit his mother without compromising his faith. Within the following year, he worked tirelessly to get petitions signed, presented those to Congress, and saw the strengthening of regulations to require reasonable accommodation of religion and articles of faith throughout the national security system and society.
"Whatever happens, happens for the greater good," Khalsa concluded. "Incidents like this one, where misunderstandings occur between people of different backgrounds and faith, strengthen our society. In my case, this situation helped me become stronger, made me more resilient, and provided guidance to me as I strive to best serve the Sikh people and everyone in our great country."
"Singh" is scheduled to be released by January 2019.
Statement from Indiana Minority Business Magazine:
"For over a decade, Indiana Minority Business Magazine has honored those who have exhibited the true meaning of diversity in their respective fields, through their outreach, or have broken racial or gender barriers in the hiring practices.
The Rosa Parks Trailblazer Award is one of our three highest honors. Due to your tremendous efforts to help launch new laws prohibiting TSA agents from touching traveler's turbans, we are pleased to present you with this award.
Rosa Parks Trailblazer Honoree:
In recognition of your honor, you will be presented with a special Champions of Diversity plaque during the 2019 Champions of Diversity Awards Dinner. The event will be January 18, 2019 at the Hyatt Regency Hotel in downtown Indianapolis. Our networking reception begins at 5:30 p.m. and the awards dinner begins at 6:30 p.m."
 
CAPTION FOR PICTURE: The poster for "Singh," an upcoming movie tackling freedom of religious expression, features Gurinder Singh Khalsa and his mother, Surjit Kaur Sandhu.
For More Information or To Schedule Interviews, Please Contact:
Sunday Ruiz @ (317) 308-1050, [email protected]
 "This is a great day for New York City's school children. We expect our schools to be free of bias-based bullying, and today's announcement will help us achieve that goal.  During the course of creating this new regulation, the Sikh Coalition and its allies…played a crucial role.  We look forward to continuing to partner with community organizations to make our schools safe places to learn." –Chancellor of Schools, Joel Klein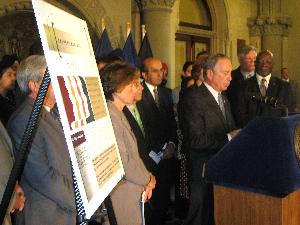 (New York, NY) September 3, 2008 –  Wednesday morning at a press conference at the Department of Education Headquarters, Mayor Bloomberg and Chancellor of Schools, Joel Klein, along with the Sikh Coalition and other community organizations, announced the creation of a historic new Chancellor's Regulation that defines, tracks, and aims to prevent bias-based harassment in NYC public schools.  After over a year of urging the DOE to implement such a regulation, the Sikh Coalition applauds the Chancellor and Mayor for taking this very important step in making NYC's schools free of harassment for not only Sikh students but all students.
 
What will the new regulation do?
The new regulation, A-832, "establishes a procedure for the filing, investigation, and resolution of complaints of student-to-student bias-based harassment, intimidation, and/or bullying."  Highlights of the regulation include:
A clear and comprehensive definition and prohibition of bias-based harassment based on a student's actual or perceived race, color, creed, ethnicity, national origin, citizenship/immigration status, religion, gender, gender identity, gender expression, sexual orientation or disability.
A clear reporting procedure in which each school city-wide must have a designated staff point person to whom reports of bias-based harassment can be made.  Students can also report harassment by emailing complaints to the Office of School and Youth Development as well.
Prompt investigation of a report of bias-based harassment as well as entering the incident into a central database within 24 hours.
A written report for the alleged victim of the results of any incident investigation within 10 days. In addition to disciplinary action (based on the DOE's Discipline Code), follow up intervention methods such as counseling and sensitivity training; and training on bias-based harassment and the  "Respect for All" diversity training to all students and staff annually.

It was also announced that the DOE will publish annual public reports on bias-based harassment in schools, including information about individual schools.  This will allow the kind of transparency that community members and organizations need in order to know where we need to focus our work.
 
The Need for the New Regulation
The urgent need for the new regulation stemmed from the high number of Sikh students being harassed and bullied in NYC schools.  Most recently in June 2008, two Sikh students were attacked in Queens schools.  On June 9, Gurprit Kaur, a student at P.S. 219 in Flushing discovered that another student had cut off a portion of her religiously-mandated uncut hair and discarded it.  On June 3, Jagmohan Singh Premi was punched in the face after a student intentionally attempted to remove his patka (smaller turban) at Richmond Hill High School.  In addition, in May 2007 Harpal Singh's hair was forcibly cut by another student in a hate crime in another Queens public school.
 
This past April, the Sikh Coalition released a civil rights report, "Making Our Voices Heard: A Civil Rights Agenda for New York City Sikhs,"  which found that more than 60% of over 400 Sikh students that the Coalition surveyed had suffered bias-based harassment or violence in city schools because of their Sikh identity.
"The amount of Sikh children being harassed and bullied in New York City's schools every day is nothing less than an epidemic," stated Amardeep Singh, Executive Director of the Sikh Coalition.  "Sikhs took to the streets in June in Richmond Hill to urge the Department of Education to make this issue a much higher priority and take proactive steps to make NYC's schools free of bigotry.  We are heartened by the creation of this much needed new regulation.  It is in large part the Sikh community's activism that led to the creation of this new regulation to enhance the lives of 1.1 million city school students."
The Coalition would also like to recognize and thank the partner organizations who worked with us in the last year to make this regulation a reality:  the Asian American Legal Defense and Education Fund (AALDEF), the Coalition of Asian American Children and Families (CACF), New York Civil Liberties Union (NYCLU), and the New York Association for Gender Rights Advocates (NYAGRA).  We would also like to thank City Councilmember John Liu for his ongoing support and his commitment to combating bias-based harassment in schools.
 
Moving forward
"While this new regulation is an important step, it is only half the battle," stated Sikh Coalition Community Organizer, Sonny Singh. 
"Now we must monitor the DOE and city schools to make sure this regulation is being properly implemented so that it is truly making a difference for the average Sikh student, the average gay student, and the average immigrant student.  The Sikh Coalition and our allies will have to be a watchdog on bias and bigotry in schools."
 
"I hope this new policy means that other students won't have to go through what I went through," stated Jagmohan Singh Premi, who was violently attacked on June 3, 2008 at Richmond Hill High school after almost a year of daily bias-based bullying.  "Sikh students should feel safe in their schools." 
Power concedes nothing without a demand. It never has and it never will.
– Frederick Douglas