Who exactly is Hardeep Singh Kohli? The turban-toting presenter, comedy scriptwriter and amateur celeb-chef this week publishes his travelogue of a journey through India spent cooking traditional British meals for local people in an attempt to disentangle his deeply mixed sense of identity. Now he says he feels just as confused as ever. And after a whirlwind encounter with the world of Singh Kohli, I have to say that, frankly, I'm not surprised.
We meet at the heart of media-luvvy East London, at the Shoreditch House private club, where the likes of Mackenzie Crook hang by the snazzy bar to say "hi". Singh Kohli, 39, has rapidly become a fixture in our media firmament: he is a presenter on the BBC One hit programme The One Show; regularly appears on Newsnight Review clad in turban and kilt; wrote the Channel 4 ethnic-comedy hit Meet the Magoons; and has presented Newsnight Review, Radio 4's Saturday Live, Midweek and The Food Programme. To cement his meeja status (and his culinary credentials) he was also a runner-up on Celebrity Masterchef.
It's a world a way from his Glasgow upbringing as a child of immigrant parents from Indian stock, who worked their way out of a tiny tenement flat into middle-class comfort. On the way up Singh Koli endured ostracism because of his race, was privately schooled by Jesuits, nearly died from a paralysing infection, adopted the turban despite his parents' advice and his brother's derision, and learnt by rote the scripts of comedy greats such as Morecambe and Wise.
It is, in spice terms, quite some masala mix. During our time together, I counted at least five identities: the media operator; the religious conscience; the Indian seeker; the flash dude with the Jag convertible; and the confused kid. All wrapped up in a large, somewhat cuddly frame, snappily topped and tailed by a purplish turban and box-fresh calfskin slip-ons, with a flamboyant floral shirt and matching hankie in-between.
Singh Kohli's literary quest is a rather comedic attempt to explore our multi-ethnic, global-village era. The cooking itself wasn't a vital ingredient, he acknowledges, but "a mechanism to unlock doors to people who might be able to shed some light on who I am". Which is fortunate because his amateur culinary effort, which took him to cook fish cakes with a beach-shack vendor, serve shepherd's pie to the Delhi elite and proffer toad-in-the-hole to a relative in Bangalore, was hardly an unqualified success. Indeed, it vindicated the argument that if British cooking was so great, then Britain wouldn't be full of Indian restaurants.
When I ask him to sum up, in word, how the cooking side of the trip went, he says: "Badly… I am used to people enjoying my food, in a very homecooked way. It's quite difficult to cook for people who prove indifferent. What's worse is when people respond with disingenuous politeness.
"There were elements of that all over the place. In Bangalore it was heartbreaking when my cousin just took a bite of my food and ordered a prawn curry from the waiter instead. Or there was the sous chef in Kovalum, where I started the journey, who could not understand why the f*** I was bothering."
He doesn't look too upset, though. He sits relaxed on a large sofa, holding a steadily confident gaze. There's a lot of alpha-guy testosterone sloshing about there. He feels that the trip had its emotional high spots, too. "One of the most successful moments was in Goa, by the Arabian Sea, with this guy Mamallapuram at his beach café. I realised that there is a universal simplicity about being a man, the shared silence of men. Those fish cakes were pretty bloody good, too." Singh Kohli ended his trip by cooking a rather unEnglish goat curry at his ancestral home in the Punjab.
Was this the end of the search? "I went to India with a set of questions and, instead of coming back with a set of answers, I came back with a different set of questions," he says. "This truly is the beginning of the search. I have just had the most turbulent year of my life. My personal life has been turned upside down. I don't want to talk about that… Well, I split up with my wife last year. I guess [he mutters, more to himself than me] I should get used to talking about that."
This sudden flash of vulnerability seems incongruous, but Singh Kohli, a father of two children, a girl, 15, and a boy, 10, says he has long been troubled by doubts about his selfhood. "I got to my late thirties and felt very Scottish and British but was not sure about what the rest of the country felt about me," he says. "I was also nervous about being accused of being what we as kids used to call a coconut – you know, brown on the outside but white on the inside. From the trip I realised that I'm British. I'm from here. This is where history begins for me. But I am linked through my family to another place."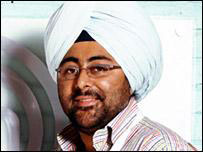 He began constructing his own distinct identity while at St Aloysius' College, the private Jesuit school in Glasgow. He decided to embrace his Sikh heritage by growing his hair and wearing the turban. He was 13. "When I was looking for an identity the strongest one I could see was my father's. Both my father and my mother advised me against wearing a turban. They said it was such a heartache and pain. But it's who I am. I love being a Sikh from a Sikh family," he declares. "From the Jesuits there was a degree of resistance when I took up with the turban. But if you force people to say things about you and what you're doing, that opens their own beliefs up to scrutiny."
His younger brother Sanjeev, another comedy writer and performer, is sceptical of Hardeep's spirituality, telling The Sunday Times in April: "I don't think he's particularly a strong Sikh religiously. It's as much to do with his pride in his culture, pride in being a bit different. I slag him off about it, about how the last time he was in a temple, 2 Unlimited were in the charts." Singh Kohli is less than pleased by this. "I'll have to have a word with that boy. My younger brother is a complete atheist," he says, adding: "A lot of the way I look is quite Sikh, but I don't go to temple every week and I don't grow my beard long. There is more to religion than believing in God. The thing that has stayed with me is the cultural values of being Sikh."
A misfit and sense of difference
He acknowledges, too, that even within Sikhism he still feels a misfit: "I have not met many Sikhs who share my interests. I love cooking, shopping, clothes, buying new shoes and football, and I love working." His sense of difference was bolstered in his teens when he contracted Guillain-Barre syndrome. "It's sort of like meningitis. I was paralysed from the chest down. That was a life-changing event. I just woke up one morning and could not walk. They did not know what it was. I was playing rugby then. My dream was to be the first Sikh to play for my country. That was ruined, but I made a miracle recovery by all accounts. When I recovered, I felt emboldened, blessed."
Instead of rugby stardom, Singh Kohli decided that his blessed path to fame lay through comedy and showbiz. And for this, he says, he can thank the formative influence of Glasgow. "There's a lot of funny and creative people who have come from Glasgow, Billy Connolly for instance. So Glasgow has made me what I am. And Dad cleverly gave us books and tapes of the likes of Morecambe and Wise, the Two Ronnies, Fry and Laurie, and my brother and I would learn it all and dissect it."
Despite his assiduous pursuit of success, Singh Kohli claims that there is one part of his identity he would gladly abandon. "I never wanted to be well-known. I did not want fame. I don't like being called a celeb. I never wanted to be on TV, that came and found me," he stresses.
"It's not what I signed up for. Our culture's spiritual problems are shown up by our worship of celebrity. And the juggernaut of celebrity is out of control. In my day, people were famous because they were good at something, not just because they were famous. We are losing good scientists, artists, plumbers because they just want to be famous. There is a sense that being famous is a panacea. It's not."
And with that, the interview proper is over. Singh Kohli has to rush to the theatre. Kindly he offers me a lift, and we trot off in search of his car, which turns out to be a gleaming new Jaguar. It's hardly self-effacing, particularly when he presses the button to fold back the roof, before revving off into the London City traffic past his newly adopted home of celeb-central Clerkenwell. I ask what's next in his career quest.
"Maybe another book, lots of work for Radio 4, maybe opening a restaurant. I want to do more and bigger TV. And I want to do meaningful things. I have a genuinely exciting life. I'm never in the same place from day to day. I don't know what country I will be in during the next month." He seems in quite a rush to do it all. "I'm in a hurry because I'm greedy," he laughs. "And I'm the child of an immigrant. I will carry on working until the day I die."