Guru Nanak's Travels in Punjab (Pakistan) in 4th Udasi
Ker Bhag Di, Marala
Dr Dalvinder Singh Grewal
In his fourth udasi, Guru Nanak Dev moved from Dinga in Gujrat District of Punjab in Pakistan to Ker Bhag di 15 kms away. Ker means a mound created by digging earth. Gurdwara Sahib here was on a mound created after digging the earth at the place where Guru Nanak sat. It is located 45 kms from Gujrat, 49 kms from Rohtas Fort in Jhelum in the north and 144 kms from Islamabad, the capital of Pakistan. It is near village Mangat. 
When Guru Nanak came here, it was a jungle at the time. Mardana felt thirsty and requested the Guru for water. Guru Nanak said, "You will have water once some village comes around," Mardana said, "I do not know when any village will come, but I am feeling thirsty now." Guru Nanak said, "You go to the north. You will find a grazier with his flock. Go and have water from him." When Mardana went to north side, he saw a person sitting on a machan (high platform on wooden stilts covered with thatch for keeping a vigil around). A pitcher of water was hung from this machan.  The legs and hands of the man were not working as these were affected by some disease. His name was Bhag. His parents or brothers used to make him sit on this machan and kept food and water with him and took him back in the evening. From this machan he used to have a vigil of his animals grazing around. When Mardana asked him for water for him and two other saints with them, he said, "Water is there in the pitcher but I have been drinking from it hence it is not pure. My hands and legs are not working but I can go to the village and inform them that three saints are sitting outside the village in jungle and are feeling thirsty. Someone must give them the water. Mardana said, "You go to the village and tell them that Nanak Nirankari is sitting outside the village and he along with his companions need water. Baba Nanak will also cure you." Hearing this, the man jumped from the machan. While falling, all his legs and arms got cured and became functioning normally. Only the thumb of right hand remained affected.  The man went to the village, while Mardana returned to the Guru and told him what all transpired between him and Bhag. Since Mardana was feeling too thirsty and requesting for water, the Guru took out the water from there itself with his stick. Mardana had his fill.
Meanwhile when Bhag going to his village, found himself in a new form and was perplexed about the new experience. He recollected about Mardana on whose bidding he had jumped from machan and found himself cured. He also thought of Nanak Nirankari whose follower Mardana was. Thinking about all this, he reached Marala about 1.6 km away. His family members did not recognise him and did not allow him to enter the house. The entire village gathered around him within minutes, finding in him a new person. They questioned him and the cause of change in him. He told the whole story how a person came and asked for water and how he got treated. He also told the name 'Nanak Nirankari' of the saint and about the three persons waiting for water outside the village. To conform this, the entire village walked up to the place where Guru Nanak was sitting. They had brought a pitcher full of water with them. On reaching, they saw a cleared space about 15 metres away from a spring where from the water was flowing out in a rivulet. Between them, they started discussing the noble deeds done by Nanak Nirankari of curing Bhag and creating a water spring in the jungle. Above all, they were surprised at the vanishing act of the Guru, who did not wait for the people to come. 
The village was turned into a full life since it was not developing due to lack of water. But here the water was flowing out like a rivulet. The village started worshipping the place. They collected the earth from around the place and made a mound at the place where Guru Nanak sat. This place was known as 'Ker Baba Nanak. Ker in their local language means a small mound made from dug up earth. A Gurdwara was constructed at the place. The water got collected into a pond and which was later converted into a sarovar. The water of this place never diminishes and keeps on collecting naturally. The water from the canal nearby is put into for the sangat to have bath in it. Marala used to be the village of Hindu Jats and Khatris. After 1947 partition, it has been occupied by migrated Muslims.
The charge of the gurdwara was given to two Udasi saints, Baba Nimana Sahib and Baba Hamba Sahib. They both were followers of Guru Nanak. They served the Gurdwara very well and helped development of  the area as well.  Free langar used to be served to all. After these two udasis, Bawa Bhag Sahib, Mahant Bawa Ram Sharan ji, Mahant Bawa Nanak Parkash, Mahant Bawa Brahm Hari, Mahant Dharamdas and Mahant Sital Das served till it was taken over by the Sikh Sangat on 29 November, 1928 AD since the Udasis were not following the Sikh Maryada. In a court case by the Panth, the Gurdwara was handed over to the Sikhs and Rs 200 was given as compensation per month for Mahant Sital Das from golak. On 13 November 1933 AD the place was visited by Bhai Dhanna Singh, the Cycle Traveller. The care of the Gurdwara was then under a local committee of District Gujrat. Arrangements existed for lodging and food. A Murala village Muslim Nambardar (village revenue collector) donated 11.5 Muraba (each Muraba = 25 Acres) to the gurdwara. Sardar Gujjar Singh, the local Governor of Gujrat of Maharaja Ranjit Singh allotted villages Charud, Mekan, Bawarati and Jaisak and wells in village Rangh, Ghania and Hela which remained under the Gurdwara Committee till 1947 AD. The Gurdwara building, sarovar, a well, and the living accomodation were got constructed by S Gujjar Singh. The day of Joti Jot of Guru Nanak, Masia and Chaudas of Chetar and Pooranmashi were celebrated by the sangat from all over the area as a grand function. To visit this place, Chelianwali Railway Station is 8 kms
Jaisukhwala (Jaisak):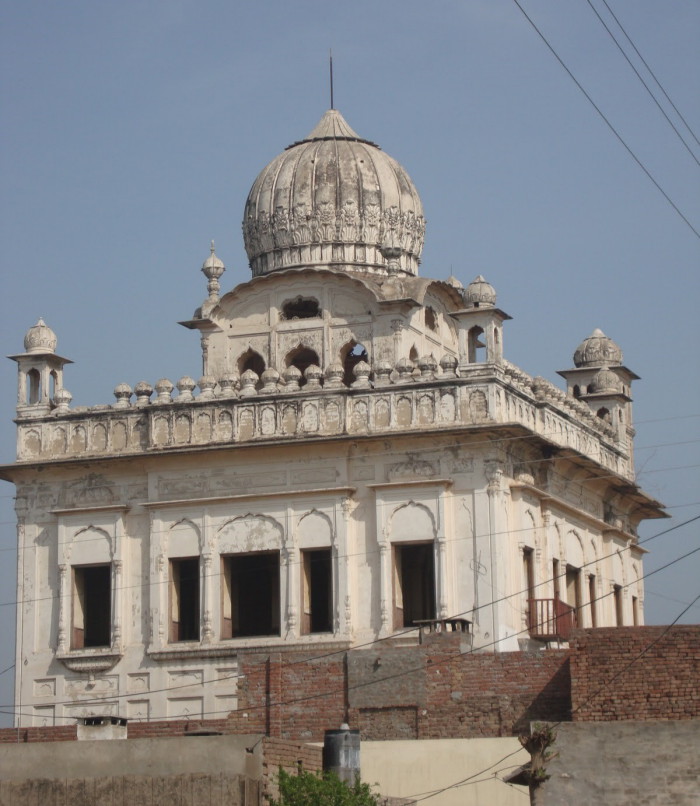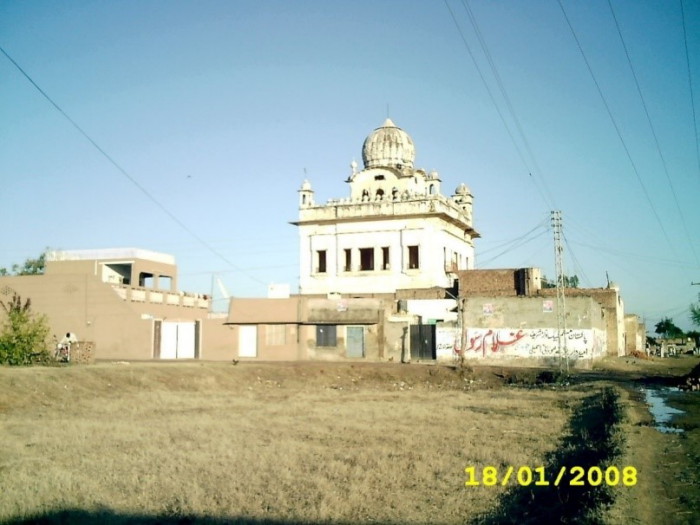 From there, Guru Nanak Dev moved to village Jaisak about a km from the Ker Bhag Di.  It is also known as Jaisukhwalla though abbreviated as Jaisak. Guru Nanak held discussions with local mullah and advised him to pray God from his heart and shed away rituals. Another conceited yogi was also brought to the True Path by the Guru here. A mystic wanted to curse the village for its total destruction since the villagers had not fulfilled their promise. Guru Nanak asked him to utilise the power he gained through meditation for the welfare of God's Creation rather than to destroy it. "With your act of destruction you will annoy the God", the Guru said.  "Since all is God's creation and everything in the universe moves as per His direction, no one can harm anyone of his own. Only the Will of God prevails. Thus, you must follow the Will of God rather than destroy His Creation".  The ascetic however, remained adamant. The Guru then gave his stick to the yogi and asked him to destroy the stick before he destroyed the village. As the mystic held the stick in his hand, it appeared to him like a cobra. He threw it away in fear and fell at Guru Nanak's feet. He understood the truth explained by the Guru and prayed to the Guru to put him on right path for salvation. Guru Nanak asked him to meditate without any malice or personal desire and to forego ego. This way only he could follow the right path.  The mystic followed Guru Nanak's advice and started meditating as directed and propagated Guru's teachings.
Maharaja Ranjit Singh got this Gurdwara developed in to a three storeyed building. On its left hand side, two elegant tanks were built, one exclusively for the women. A big inn (serai) for 100 families was also constructed for the sangat to assemble on fairs generally held on Vaisakhi, Chetar and Bhadon. He assigned a Jagir of Rs 2200/- and 3000 bighas of land on the name of the Gurdwara. The Gurdwara was further developed after the Gurdwara Sudhar Lehar to artistically decorated magnificent building.  The Gurdwara is still preserved but Sri Guru Granth Sahib is not installed nor any 'Guru Ghar Maryada' is followed because after 1947 no Sikh stayed back at the place. The place was occupied by 100 families of migrants and partitions have been created in some rooms. The Parkashasthan (place of Sri Guru Granth Sahib) is occupied by a police official, who does not allow anyone to visit the place. It is located on the road Marala to Mandi Bahaudin a Tehsil Hqs in Jhelum District. Now 'Panjabi Lehar' TV Channel has made a beautiful video of the gurdwara with a request to Sikhs and the Government to preserve and re-establish the sanctity of the Gurdwara. Islamabad based Shahid Shabir of Pakistan Heritage Club is also active in restoring the Gurdwara complex.
References 
1.    Dhanna Singh Chehal, Gur Teerath Cycle Yatra, ed Chetan Singh, European Panjabi Sath, Walsall, UK.
2.    Surinder Singh Kohli Dr. 1969, Travels of Guru Nanak, Punjab University, Chandigarh
3.    Dalvinder Singh Grewal Dr. 2020, Universal Travels of Guru Nanak, Singh Bros, Sri Amritsar