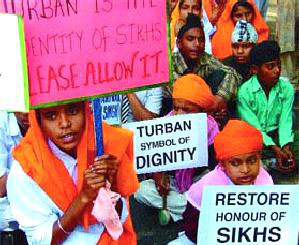 JALANDHAR: Hoping to get reprieve, a Sikh advocacy group has challanged the French government's ban on wearing turbans before the United Nations
Human Rights Committee United Sikhs, which filed the challenge on December 15, told TOI over email that in a first since France passed a law in 2004 banning the wearing of religious symbols, including the Sikh turban, to public schools, three cases had been moved before the UN.
"We're asking the UN to deliver Sikhs in France their rights under Articles 2, 17, 12, 18 and 26 of the International Covenant on Civil and Political Rights, which are derived from the inherent dignity of the human person," said legal director of United Sikhs Mejindarpal Kaur in a statement mailed to TOI from US.
"Under the ICCPR, France may restrict these fundamental rights on only the most compelling grounds, and may do so only so far as absolutely necessary. We submit that France has not made out a compelling case for denying a Sikh the right to wear a turban," she added.
United Sikhs' staff attorney Jaspreet Singh said one of the applicants, Bikramjit Singh, was 18 years old when he was expelled from school in 2004 after France passed the law. The other two applicants are Shingara Mann Singh (52) and Ranjit Singh (70) who were denied renewals of ID documents because they refused to remove their turbans to get identity photographs clicked.
While Shingara Mann Singh, who held a French passport for 15 years, was refused a replacement passport by French authorities in 2005 as he refused to remove his turban for his ID photo pensioner, Ranjit Singh has been deprived of health care since 2002 for want of renewal of his residence card with a similar condition — removing his turban for ID photo. Their cases were dismissed by French courts and then by ECHR. The European Court of Human Rights had earlier dismissed the legal challenge to the ban.
"In essence, France is insisting that the applicants expose themselves not only at the time the photograph is taken, but also each and every time they have to produce their ID. France's insistence that the applicants choose between repeated violations of their religious beliefs, with the attendant shame and humiliation, and being unable to travel (and transact) freely inside and outside France is unjustifiable," lawyers commented on the ID cases.