Related Posts
As Guru Nanak foretold (in Jap Ji: dhaul dharam daya kaa poot), so it happened. First came kindness, then righteousness. Soon after arose courage and strength. Last but not least, came governance. Guru's Khalsa is the sum total of these five attributes.
One wonders if it is a coincidence or a Divine wish that the five (Daya Ram, Dharam Das, Himmat Rai, Muhkam Chand and Sahib Chand – representing five divine qualities), who responded to the Guru's call and became beloved (pyare) of the Guru, came from five different directions/regions – Lahore (Pakistan), Hastinapur (Delhi), Dwarka (Gujarat), Jagannath Puri (Odisha) and Bidar (Karnataka).
They belonged to five different castes (khatri, jat, jhiwar, chhimba, nai), related to five different occupations: shopkeeper, farmer, water-carrier, calico-printer, barber (The five youths were chosen from five castes – Panth Prakash, Ratan Singh Bhangu).
The underlying message was that the Guru, in his all-embracing approach, wanted to adorn everyone with higher human values and unite them into one – without any discrimination based on caste, creed, colour, country, form, gender, race, region, etc. (I shall merge all the castes into one – Tankhahnama, Bhai Nand Lal ji).
That is why, the Guru's first spiritual message was: kul nash, kirat nash, karam nash, dharam nash and bharam nash. It meant that Guru Sahib was making a 'khalisah' (pure and sovereign) human being, who has to come out of the yoke of his old lineage, occupation, actions, beliefs, doubts, etc. to be the Guru's Khalsa (They must discard the rituals associated with their ancestors and concentrate on the Guru's teachings…Becoming a Guru's Sikh meant shedding all doubts. Becoming a Guru's Sikh meant complete subduing of one's ego. It involved renouncing one's descent and accepting the Guru's lineage – Panth Prakash, Ratan Singh Bhangu).
The Guru bleached them with the double-edged sword (khanda) and treated them with an understanding and application of wisdom (bani). Every one of them became an embodiment of kindness (daya), righteousness (dharam), courage (himmat), strength (muhkamta) and governance (sahibi).
They had the generosity of ocean and serenity of water. They had the magnificence of the tenth Nanak (Guru Gobind Singh), and also the sweetness and humility of the first Nanak (Guru Nanak Sahib).
So who is Khalsa? What does it stand for?
The Khalsa is: who overcomes all doubts and reins in vices; who controls the impulses of lust, wrath, greed, material attachment, etc. and surrenders one's conceit. The Khalsa is: who has a pure and untainted personality, without any lies, deceit and dishonesty.
The Khalsa is: who ceases to blame and slander others, but instead acts on every social concern and cause, and leads from the front; who breaks the shackles, liberates the prisoners and joins the broken ones together; who has the heart to stand with the low, the weak and the distressed, and the courage to berate the belligerent and oppressors.
The Khalsa is: who attaches one's mind to the Formless; who has firm faith in the all-pervading Divine existence and does not recognize anyone else as equal to the Almighty; who develops a spiritual relationship with the Divine and creation, the Divine manifestation (naanak kaa patishah disai jahara: Nanak's Sovereign is immanent and manifest – Guru Granth Sahib 397).
The Khalsa is: who identifies with the Creator and practises divinity in daily life; not a ragi, nadi, bedi, sabadi, moni, yogi, or gyani, but 'Khalsa' who cultivates a life full of loving awareness and devotion to the Divine (kahu kabir jan bhaye khalse prem bhagti jin jani – GGS 655).
The Khalsa is one who is an epitome of wisdom (bani), not merely its heir; and who not just carries the khanda, but is also duly qualified and eligible to carry it.
This is the Khalsa on whom Guru Gobind Singh bestowed the honour of carrying the weapons and riding the horses (Khalsa is one who adorns the arms…Khalsa is one who rides the horse – Tankhahnama, Bhai Nand Lal ji).
This is the Khalsa whom the Guru referred to as 'my perfect and true Guru' (khalsa mero satigur pooraa – Sarbloh Granth), and finally, invested with the responsibility of carrying forward the teachings and legacy of Guru Nanak.
On this historic Day of Khalsa Inauguration (Khalsa Sajana Divas), we need to introspect and reflect on how can we rekindle the spirit of Khalsa in our lives today.
Dr Jaswant Singh
Director, Gurbani Research
Sikh Research Institute (SikhRI)
Reports of incidents in the immediate aftermath of 9/11 and concerns that hate crimes would rise prompted the founding of the Sikh Coalition, which has grown into the largest Sikh advocacy and civil rights organization in America. In the first month after 9/11, the group documented more than 300 cases of violence and discrimination against Sikhs in America.
In the years since, hundreds of hate crimes have been reported, many of them described by police as cases of mistaken identity, like the September 15, 2001, murder in Mesa.
As America marks the 15th anniversary of 9/11 this month, many Sikhs say they feel no safer in this country. A climate of fear has prevailed since the Paris attacks in November; it has surfaced every time shootings and terrorist attacks are blamed on Muslims. Many feel the focus on immigrants in the 2016 presidential election has added to the hatemongering.
"I definitely feel the uptick of more hateful rhetoric in the country," says Singh.
The irony of being attacked was not lost on Singh: He had written about the violence against Sikhs, including a 
New York Times piece
 after the 
2012 mass shooting at a Milwaukee temple
. A year later, he, too, had become a victim, finding himself in the uncomfortable position of having to explain to his young son why he was attacked simply because of the way he looks.
"Whatever I think the environment is around us, I know children absorb all the messages," he says. "How can we prepare them to meet the world that may not be prepared to meet them?
"Why are we being attacked for being Sikh?" he says. "My tradition teaches me to ask what are we doing as a community to have a far more welcoming embrace of people who are different than us."
Sikhism was founded in the 16th century by Guru Nanak in Punjab, an area that is now divided between India and Pakistan. Nanak rejected the rituals involved with other South Asian religions and stressed the importance of good deeds such as serving others and treating all people equally.
The monotheistic religion has more than 25 million followers worldwide and about 500,000 in the United States. Yet a majority of Americans — 60% — admitted in a 
2015 survey
 that they knew nothing at all about Sikhs.
Lawyer and activist Valarie Kaur says the threat of violence seems to have become mainstreamed.
Her grandfather settled in California a century ago, and she knows firsthand from her family that discrimination against Sikhs existed long before 2001. But 9/11, she says, was a paradigm shift, a turning point.
She used to talk about living in the "shadow of 9/11." Then the shadow turned out to be long, and what seemed temporary became permanent.
"Bigotry on the fringe has been cemented," says Kaur, whose 2008 documentary, "Divided We Fall," explored Sikhs in the United States and what it meant to be American in a post-9/11 world.
"The threat of hate and racism has become a part of our daily lives," she says.
Despite the current climate, both Singh and Kaur expressed optimism for the future. Both are vocal about their Sikh identities and talk about landmark changes they hope will make things better in America. They point to younger generations of Sikhs who are fiercely proud of their outward identities and to people like Rana Singh Sodhi, who lost two brothers within a matter of months and became a strong voice for his community.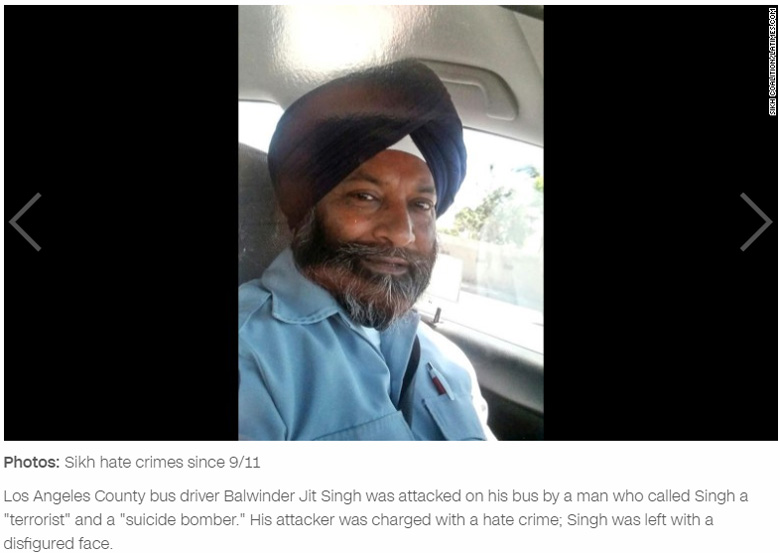 On Thursday, Singh Sodhi will again gather with family and friends at the corner of 80th Street and University Drive in Mesa, Arizona.
The Chevron station had been the pride of his older brother Balbir, who arrived in the United States in 1988 and worked hard to achieve the American dream.
That dream shattered in 2001, and now a small marble-and-granite memorial bears these words etched in gold lettering: "He was killed simply because of the way he looked."
This is ground zero for the Sodhi family.
Balbir's killer, Frank Roque, told the police: "I'm a patriot and American. I'm American. I'm a damn American."  
Balbir considered himself a patriot, too. An hour before he died, he had driven to a nearby Costco to purchase plants for new landscaping at the gas station. On his way out of the store, he emptied his wallet, donating $74 to the 9/11 victims' fund. Then he called Rana and asked him to bring a few American flags to display.
Balbir was the eldest of eight siblings in a farming family from the Indian state of Punjab. He and his brothers resettled in America and felt indebted to the nation that gave them new opportunities.
But 10 months after Balbir's murder, a second brother, Sukhpal, was also gunned down, while driving his cab in San Francisco. Police said it was not a hate crime, but Rana is certain that both his brothers were killed because of their Sikh identity.
"I understand that everyone has to leave this world but not because we wear a turban, wear a beard," he says. "America is the most diverse country in the world, but people have zero knowledge about who we are."
He's saddened when he meets Sikh men who shave their beards and abandon their turbans out of fear.
"I don't want to live scared," he says. "This is America. I should be able to live the way I want to live."
Sikh Americans suffered their darkest moment on August 5, 2012, when white supremacist Wade Michael Page went on a shooting rampage at a Sikh gurdwara, or temple, in Oak Creek, Wisconsin. Page killed one woman and five men; all the men were wearing turbans.
At the time, it was the worst hate crime committed in a house of faith since the 1963 church bombing in Birmingham, Alabama. Although the incident made national news, it did not get the same attention as other shooting incidents, says activist Kaur.
"It happened on Sunday. By the following Sunday, we were bumped," Kaur says. "The media did not think the American public had the attention or did not care enough to understand this community. They could imagine a movie theater or an elementary school or a black church. But not a gurdwara."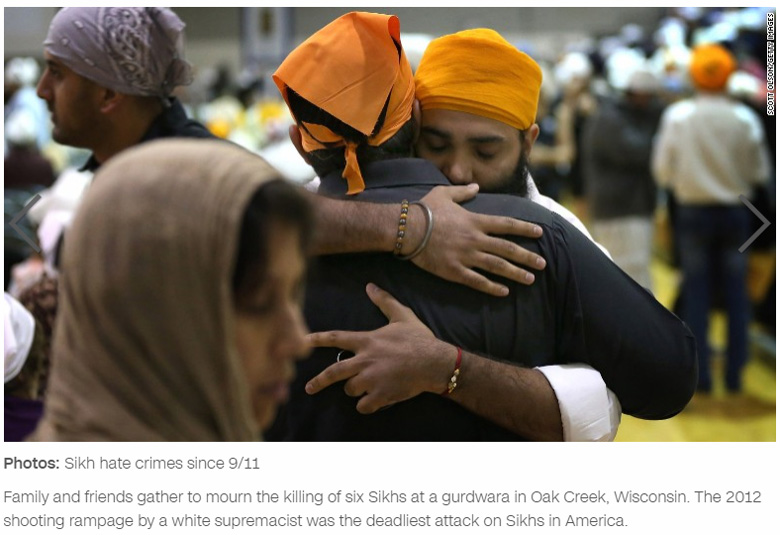 Since then, Sikh Americans have made some important gains, Kaur says. That includes an announcement in 2015 that the FBI would begin tracking hate crimes against Sikhs. Sikh Americans had lobbied for years for such documentation, arguing it was a key step in combating such crimes.
The first report will be released later this year.
"It is not going to prevent an Oak Creek massacre, but it was a landmark civil rights victory," Kaur says.
Ultimately, she says, the only way to prevent violence and discrimination is for people to get to know each other. Oneness and love, core foundations of the Sikh faith, are the only way to save the Sikh community, she says.
Sikhism also embraces a concept called seva, which means selfless service. Kaur says Sikhs must go beyond education or lobbying and engage in seva in their neighborhoods to gain full acceptance in this country.
Prabhjot Singh, the Manhattan doctor, agrees.
"I deeply believe in the Sikh spirit of seva," he says. "Working in our communities where we live is one of the more powerful things we can do.
"Shortly after I was attacked, I prepared to shift my work, to work in a community context, and learn how to be more rooted in the work of creating a more loving nation. It's not easy, and I'm no expert. But if anything, being attacked primed me to listen more carefully and feel the consequences of our choices more deeply."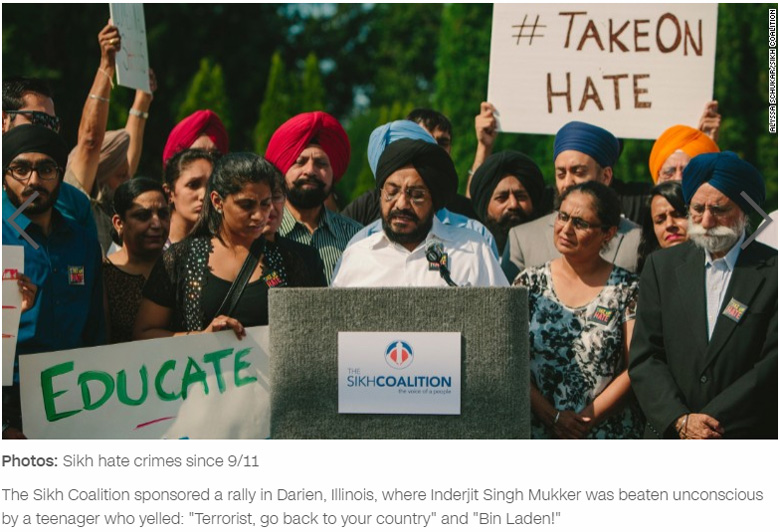 When he sat down with his son, Singh told him their lives were forever connected to the lives of his assailants. And that they would spend a long time thinking and talking about it, just like he asks Sukam to think about times he hurts his younger brother.
One man was later arrested in connection with the attack and charged with aggravated harassment and committing a hate crime. No one else has been apprehended.
After the beating, Singh knew it was important for the Sikh community that justice was done, but more important for him, he would like to meet the perpetrators. Perhaps, he says, he is naïve, but he believes that getting to know people who are different is the best way to create change.
Singh would rather his attackers be taught than caught. He wants the streets of Harlem to be safe for his sons. More than anything, he wants that group of young men and boys to stop hating.
Singh posed the question to his son. "What should I do to them if I meet them?"
Sukam smiled. "You have to wake up their hearts."
For Singh, that was the right answer.