Related Posts
Being male or female is a matter of birth. Being a man or a woman is a matter of gender. Being old or young depends on one's date of birth. However, being a Wisdom Seeker (translated into the Punjabi language as "Sikh") is a matter of choice and a matter of being one. It does not require any preaching, promoting, or blasts from the media.
I spent a significant portion of my life practicing Pharmacology and Neuroscience at medical institutions. Everyone in my field knew me, and in their circles knew of my work. I rarely had to tell anyone about my identity as a pharmacologist or a neuroscientist. They knew who I was from my work, my education, my research, and most of all my daily interaction with them.
I have taken the liberty of citing my own example, at the risk of being impolite, as there are numerous other examples. I do not have to name someone like Albert Einstein. Among Sikhs I do not need to announce credentials of Sikhs like Narinder Singh Kapany, Prime Minister Dr. Manmohan Singh, Bhai Mohinder Singh of Guru Nanak Nishkam Seva, Dr. Inderjit Singh OBE, or scholar/writer Dr. IJ Singh among many many. They never hired an advertising agency to tell others who they were. People know them by their work, from their accomplishments, and above all from interaction public.
Besides our Sikh contemporaries, I recall many great Sikhs from the recent past as well. Is anyone ignorant about the religion of Bhagat Puran Singh, Bhai Chelaram, Sant Bhidranwala, Professor Puran Singh, Bhai Hira Singh Ragi, or many others?
Then why is it that our Sikh institutions today have to organize programs, publish pamphlets, sponsor lecture tours, hire media firms, or even go to court just to make our neighbors know who we are? Why do we put up billboards at substantial cost, just to articulate to those we deal with every day that we are Sikhs?
Why do we not become Sikh and act like one? The fact that Sikhs today do not stand out as Sikhs says something serious about the disconnect between our kehni and karni (words and deeds).
SEVA FOOD BANK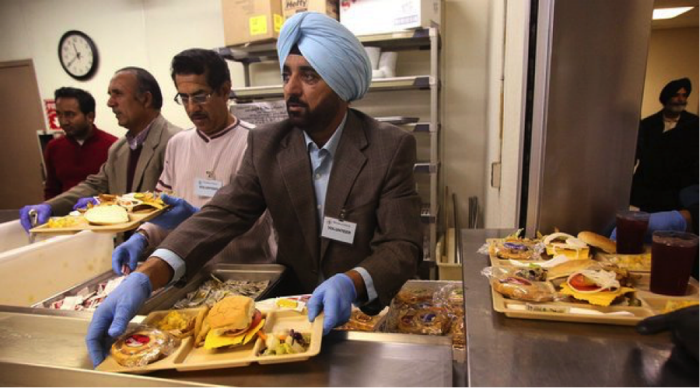 Recently the answer flashed in my mind. Kulvir Singh Gill was in Dallas the other day to speak at a fundraising event for Sikh Research Institute. In his powerful presentation, he detailed the Seva Food Bank, an organization he co-founded in the greater Toronto area. He told us that he gave no sermons to people who came for food, or to those Canadians who came to him to offer help in volunteering, or even to offer financial gifts. He described how the Canadian public soon came to know who the Sikhs were without the requirement of billboards and advertisements. Serving in the Food Bank was the secret.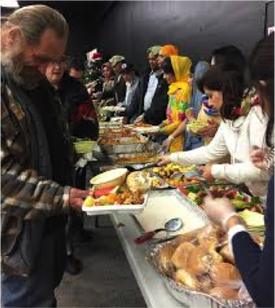 Gill cited an example of being a "gentleman" in his speech. He said if an individual has to go around telling people he is a "gentleman", he is probably not a "gentleman".
Some time ago, I saw a sign in a restaurant that said something like "In American society, a "gentleman" will exhibit love and respect for his friends. Often he will do so not because his friend was helpless or unable. However, because he is a "gentleman" and he wants to show his guest that she is valuable and worthy of respect."
It is obvious that none of them will have to tell that they are "gentlemen" or intelligent men. The attitudes and actions in the public alone are effective to deliver the message.
SIKH IS A VERB
Some time ago, I wrote an article about whether the term "Sikh" was a noun or a verb. There I discussed how the word "Sikh" could be both at different times of the day depending upon whether s/he is being a Sikh at that moment or not.
When Guru Nanak traveled to new places, he never revealed what his religion was, or what would be the religious label applied to those who began to follow him. Eventually, those communities became known as Sikhs (wisdom seekers) because they were coming to the Guru seeking his wisdom. The same wisdom later came to be known as Gurmat or the Wisdom of the Guru. Sikhs always lived by Gurmat in their life practices and were prominently known to their neighbors.
I work with interfaith organizations and programs in North Texas area. Among my colleagues, the audiences at my presentations, or those I meet socially, no one asks me about my faith affiliation. They all know me as a Sikh. Some time ago, when I was in the hospital for surgery, the clergy from 22 faith traditions prayed for me. I am confident that many others could report similar experiences.
Sikhi is a dynamic virtue, and our neighbors are bound to perceive it as so. This could be rendered into English as "are called Sikh". It would make a nice little exercise to investigate this point more thoroughly than I have done. I did write a lengthy article some time ago titled – Is Sikh a Noun or Adjective. Now I think it might even be a Verb.
GURU NANAK'S METAPHOR OF A RIVULET
I had also written earlier that the Guru Granth termed Sikhi as a "rivulet" perhaps because a "rivulet" carries water from the ocean via snow and rains to fertilize diverse lands continuously. It serves surrounding communities, and it does not require any media firm or extensive marketing to tell the neighborhood that it was a rivulet. They will not escape noticing its life giving contribution to its neighborhoods.
The verse goes like this.
ਗੁਰੂ ਸਮੁੰਦੁ ਨਦੀ ਸਭਿ ਸਿਖੀ ਨਾਤੈ ਜਿਤੁ ਵਡਿਆਈ ॥ SGGS, p. 150
The Guru, the Divine Wisdom, is the bottomless ocean, and all of its WISDOM is in the form of teachings that originate out of this ocean, as rains and falling ice give birth to countless rivulets and rivers, sometimes puddles, of many lengths and depths. When drenched with these rains and rivulets, the earth is fulfilled. Those who are drenched in the Guru's ways are exalted and grateful.
METAPHOR OF FRAGRANCE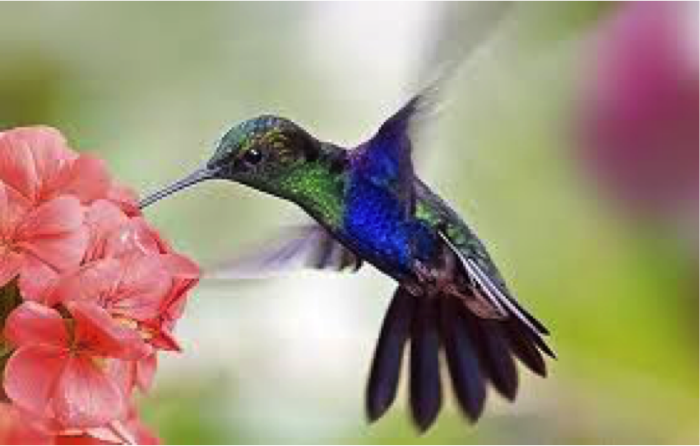 The Guru Granth also describes Sikhi using the metaphor of fragrance. In this verse from sacred scripture, Guru Nanak explains his doctrine for living: this way:
ਨਾਉ ਨੀਰੁ ਚੰਗਿਆਈਆ ਸਤੁ ਪਰਮਲੁ ਤਨਿ ਵਾਸੁ ॥ SGGS, p. 16
Spread your irresistible fragrance produced from cleansing the mind and the body with waters of Goodness,
followed by application of the scented oil of Truth.
The metaphor of fragrance in Sikhi is a powerful one. As Marian Bendeth said, "Fragrance speaks the loudest on a subliminal level." Another wise man, Sheikh Saadi wrote, "Mush Anast Keh Khud Baboyad Na Keh Attar Baboyad". He emphasized that the fragrance is capable of selling itself, along with the source that emits fragrance. Because it has inherent allure, the fragrance requires no trader, no sales force or media, to announce its presence. If it did, it was not fragrant.
In the silence of your room, in the hubbub of the melee, in the busy current of your routine, or in crises, there is surely value in reflecting on what your faith might mean at that moment. When you are comfortable with your own answer, all those surrounding you will know what your faith is, and what your commitment to it is. You will not have to go to any great length to explain your faith to anyone.
TAKE HOME MESSAGE
A reputation is built on what you have done, not what you have promised to do. Our current obsession with telling the world what Sikhs are is a largely fruitless exercise, and perhaps a reflection of our inability, individual and collectively, to live up to the values our Guru has given. Identifying ourselves as Sikh (or even looking like one) is largely a pointless label unless one is working towards living Sikh values– that is, our Sikhi. Otherwise, it is as if we are wearing a Halloween costume all year round (and fooling no one).
Sikhi is to be lived and is to be experienced. Our actions, not our words, need to validate our values (i.e." gentlemen" analogy). To understand the dynamics of identifying, being and doing, from a Sikh perspective, the concept of a rivulet and of the fragrance are powerful metaphors used by Guru Nanak.
Indeed, there is much ignorance, which is leading to unnecessary fear and dangerous hate. So yes, we need to increase awareness of Sikhs and Sikhi in the public. However, "how" is the critical question?
TO BE SEEN DOING GOOD WORK IS MUST
Kulvir Singh's first workplace mentor told him that to be successful one needs to do good work but also been seen doing good work. With that in mind, let us focus first on living our Sikhi in private (when no one is watching) and then in public (when the eyes of the world are on us). If our kehni and karni (words and deeds) are aligned, then accolades and awareness will be a natural consequence.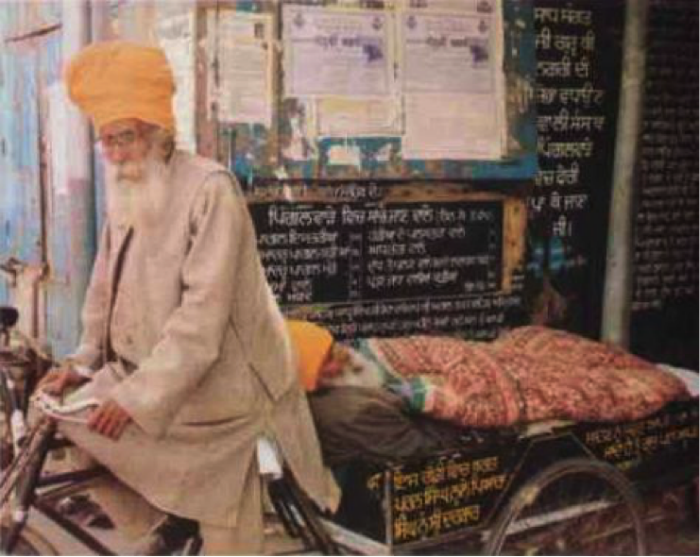 Bhagat Puran Singh, an octogenarian Sikh, carried the sick and disabled on his tricycle driven cart to their place of treatment or care center. His Sikhi was noticed very widely.
BOSTON — As he stood among his fellow uniformed candidates awaiting the ceremony that would finally make them commissioned officers, Kanwar Singh looked upward, toward the sky and thanked God.A devout Sikh, Singh turned to his faith in times of good and times of trial, knowing that devotion and prayer could carry him past obstacles, whether making it through the final weeks of basic training, or while standing against prejudice.Huddled on the wooden deck of the USS Constitution, each of the 17 officer candidates sported Army service caps. The males had clean-shaven faces, except for Singh who had a beard and wore a black turban covering his dark hair.Minutes later, Singh took the officer's oath and rendered his first salute to 1st Sgt. John Helbert, his former recruiter, who spent years helping Singh reach this moment. The August 2018 commissioning ceremony marked a culmination of a journey far longer than Singh had anticipated.Four years before, Singh, now a second lieutenant in the National Guard, filed for a religious accommodation following meetings with Helbert. Sikhs consider hair a sacred extension of the body and therefore must remain unshorn. Before his passing, the tenth Sikh guru, Guru Gobind Singh, designated uncut hair as a sign of respect for God and also mandated that turbans must always be worn to maintain Sikh's saint-soldier identity.Kanwar Singh requested a provision from the Army to allow him to adhere to these requirements. His quest for a religious accommodation eventually landed him in Washington, D.C., and delayed his commission, but he continued to persist with the support of the nonprofit group Sikh Coalition and his fellow Guard members.The Army granted him an interim religious accommodation in 2016 to attend basic combat training while keeping his articles of faith intact. The Army released a new directive in January 2017 based on the performance of previous Soldiers who received religious accommodations. It allowed Sikhs and members of other faiths to don articles of faith while in uniform permanently."If I had quit, I would not have been able to serve," said Singh, 30. "Today, there are hundreds, if not thousands, of patriotic American Sikhs, Jews, Muslims, Christians and service-members of other faiths who now have religious accommodations."That's important to us as Sikhs; it's not about us," he added. "It's also about the … broader societal good and that was important to me."In the years since, the Army and Defense Department further updated their stance on religious liberties. The DOD released new instruction Sept. 1 that improved the process for accommodating religious practices, holding that "sincerely" held religious beliefs do not impact military readiness. Further, Army commanders at every level will be "trained and advised on the principles, policies and procedures related to religious liberties and appropriate accommodations for religious practices," per an Army directive published in July.Journey of faithSingh left New Delhi in the summer of 2007 carrying only two suitcases and a few changes of clothes.He hoped that in America he could practice Sikhism in peace and like the millions of immigrants before him, the country's boundless opportunities enticed him. Sikhs, no strangers to the U.S., migrated to the West Coast to work on the railroads and on California farms in the early 20th century in search for religious freedom.India's massive cosmopolitan capital houses more than 21 million residents and hosts a wealth of cultures. However, religious minorities there often face oppression or even violence for practicing their faith. According to India's most recent census, more than 20 million Indians practice Sikhism but account for less than 2% of India's population.Singh's family moved from the West Punjab region of British India during the partition of the country into India and Pakistan in 1947. Britain's separation of the two states led to mass migration of people along religious lines.Sikhs often have been the subject of religious persecution. In 1984, mobs slaughtered thousands of Sikhs after Indian Prime Minister Indira Gandhi was assassinated by her Sikh bodyguards after she ordered the Indian military to attack Sikh's holiest place of worship in Punjab.By 2007, those responsible for the mass murders had not yet faced trial for their crimes and Singh knew he didn't want to live in such an environment.So at the age of 17, Singh made the journey west — one that would eventually land him on the campus of Harvard University, a lucrative job at a financial services company and a commission with the National Guard."I knew that this is a land of opportunity," Singh said. "You certainly have a lot more freedoms here than you would where I grew up. I was really excited about that."He moved in with family members in Richmond, Virginia, and quickly connected with other Sikh families in the area. By the time he graduated from Virginia Commonwealth University with a business degree in 2011, he missed the rush of living in a larger city and left for Boston to fulfill a lifelong professional and academic dream with an opportunity to study at Harvard University.Singh wanted to serve his country in a larger capacity. As a member of the Massachusetts National Guard, his service to his adopted country aligns with Sikh beliefs of service toward others."For him, [military service] comes from a place of being able to serve God as well as his country," said Harsimran Kaur, a member of the Sikh Coalition who helped Singh acquire his religious accommodation. "I think for him that's pretty deeply intertwined."Sikhs hold military service in high regard, encouraging their members to learn self-defense and to protect others. Singh's grandfather and great grandfather served in the British Army in the Sikh regiment."Sikh beliefs are selfless service, giving back and helping others," said Singh, who also speaks Punjabi, Hindi and Urdu. "And I feel those are actually very aligned not just with the American values, but even our Army values."He felt the impact of the 2013 Boston Marathon bombings after he moved from Virginia to Boston a year later by conversing with Bostonians who remembered. Singh attended a speech by the late Arizona Sen. John McCain at Harvard Kennedy School encouraging students to join the armed forces, and that further inspired him to join the military of his adoptive country.He read about the National Guard's mission and its role in disaster response as well as national emergencies and decided he wanted to be a part of it.In the spring of 2014, Singh applied to the Air National Guard but after a brief conversation with an Air Force recruiter about wanting a religious accommodation and several unanswered emails, he did not receive a call back.He then contacted an Army recruiter, then-Sgt.1st Class Helbert, who pledged to help him become a Soldier. "He did not give up on me," Singh said.However, Singh's mission to serve would be further delayed.While pursuing a master's degree in liberal arts from Harvard and a master's in business administration from University of Massachusetts, Singh endured a lengthy legal process for nearly two years. After finally being allowed to enlist in 2015, Singh, then assigned the rank of specialist, requested a religious accommodation so that he would be allowed to wear the traditional Sikh turban and would not have to shave his beard.In April 2016, an Army recruiting commander asked Singh if he would shave his head and facial hair for basic training, which he was scheduled to start the next month. Singh said that he could not."I was really being asked to either serve my country or give up my religious beliefs," he said.Despite a history of Sikhs serving in the U.S. military dating back to World War I, the Army changed its standards in the 1980s. In the past 11 years the service granted a small number of Sikhs' religious waivers, mostly in the medical field. Then-Capt. Kamaljeet Singh Kalsi became the first Sikh since the Vietnam era to be granted a religious accommodation in 2009.Singh could not be issued uniforms or attend basic training during that time. Helbert promised to do whatever he could to help him become a Soldier, helping Singh file the paperwork necessary for his accommodation. "I could not go to my drills in uniform," he said. "[We] were not even allowed to go to the training. So I was basically in this weird status."At the same Harvard Kennedy School venue where Singh heard Senator McCain present in 2014, Singh asked then-Defense Secretary Ash Carter how he felt about allowing the opportunity to serve in the military to anyone, regardless of religious beliefs in December 2015. Carter said that he appreciated Singh's desire to serve.After the Army passed the January 2017 directive on the wearing of religious articles, Singh's interim religious accommodation from 2016 was made permanent. He would now be allowed to serve in the Army while wearing a turban throughout his career. Because of the lengthy legal process, Singh took four years to complete basic training and officer candidate school, which students normally finish in two.Still, of the 35 students his class, Singh joined the 17 who qualified for a commission.Another tenet of the Sikh faith: they will see difficult tasks or obstacles to the end.In the 17th century, a reported 7,000 died during the Sikh Holocaust. During the 1984 violence against Sikhs, more than 3,000 Sikhs lost their lives in New Delhi and tens of thousands perished throughout India."One of the things that we are taught is we will literally be killed for the right to practice our religion," Singh said. "I've always remembered that. And I've sort of always believed that as a Sikh — you don't give up; you never quit."When he faced great adversity, such as his platoon's final ruck march in basic combat training, Singh resorted to meditation and prayer hosting prayer sessions with fellow recruits.An outsider no moreOnce in 2018, while walking the streets of Boston, a woman told Singh to "go back to your country."Occasionally in his civilian life and during his undergraduate years he would hear racist comments. Sikhs often can be mistaken for being affiliated with Al Qaeda or ISIS. In certain parts of the world, some face prejudice and sometimes violent attacks.In the U.S. Army, Singh said, he said he has received no such treatment.Since Singh attended basic training at Fort Jackson, South Carolina, and OCS in Massachusetts, he has not experienced any acts of discrimination in the Army, he said."The [Soldiers] that I work with at the ground level, they don't see my skin color," said Singh, who became a U.S. citizen in 2014. "They don't see that I have either a turban or a beard. They see me as a Soldier who can get the job done."Fittingly, Sikh means "learner" in Punjabi as Sikhs value education. Last December, Singh added a third master's degree in information technology. With his experience in the financial industry as a product leader and a management consultant, Singh represents the young innovative thinkers the Army sought to recruit as it advances toward future battlefield operations.In July, he released an artificial intelligence-enabled iOS mobile app he created for the Air Force and Army, called "Camo for Military," that helps Soldiers and Airmen manage inventory, report personnel issues and communicate effectively."When I built this mobile app I did not build it in hopes that I would get paid," Singh said from his home office in Boston. "It's more like I see a problem with how we serve our Soldiers and Airmen. How can we fix their experience through better use of technology?"As a signal officer, he leads Soldiers in the management of network operations, data communication and classified systems. He also serves on the Massachusetts National Guard Innovation Team, collaborating with the state's adjutant general to plan "hackathon" training exercises and design thinking sessions.In the two years since his commissioning in the National Guard, he has earned the Army Commendation, Army Achievement and the Air Force Achievement medals.Everyone is the 'same'As a 13-year-old, Singh recalled one summer when construction laborers began building his family's house in New Delhi. From 7 a.m. until 7 p.m. he worked in the summer heat, shoveling dirt, laying bricks and moving cement. "That was the toughest job I've had," Singh said.Today, he still emulates the same humility by serving others — his fellow Soldiers or his teams of software engineers and product designers in his civilian job as a digital project leader. And true to his faith, he preaches equality in both his professional and spiritual life.Just north of Boston's Mystic River in a plain beige brick building, Singh and other Sikhs gather to worship at the Boston Sikh Sangat, known as a "gurdwara." Following the teachings of the Sikh gurus, the religion's founders and spiritual leaders, Singh asks people of all backgrounds and religions to dine eating a simple vegetarian dish on the floor.Singh once sat with Massachusetts State Sen. Jason Lewis on the gurdwara floor similar to the way a king or queen would be asked to sit with everyday worshippers. Among the core beliefs of Sikh faith: kindness and acceptance toward others regardless of their socioeconomic status or cultural background.Sikhs also believe in the removal of one's ego and selfishness or pride. Singh applies that to his leadership philosophy choosing to have meetings with open discussions instead of imposing his rank or management status on others. He serves in a special emphasis program for diversity and inclusion in the Massachusetts National Guard."I never look at myself as above someone," Singh said. "We're all part of the same team. And I like to get my hands dirty myself."So if my team has to do something that they're not interested in … putting up tents for example, fueling generators or moving equipment around, I want to be the first one to do it because I want my team to follow me."Sikhs believe that human beings inherently are a part of God and by committing to the service of others they can become closer to God. By applying the lessons of his faith in his duties as a Soldier, Singh believes he has taken another step.Kaur, who has known Singh since he began petitioning to serve with the religious accommodation, marveled at his dedication."He's the type of person you would want to see joining the military because he's so bright but he is also really serving for all the right reasons; from a real deep-rooted sense of patriotism," she said.Related linksArmy.mil: National Guard NewsArmy.mil: SoldiersProject InclusionU.S. Army Signal CorpsArmy News ServiceARNEWS Archives