New Delhi, June 6: Want to visit Golden Temple? No, Amritsar is not the only destination if the designs of Baba Balwant Singh Sirhore gets successful.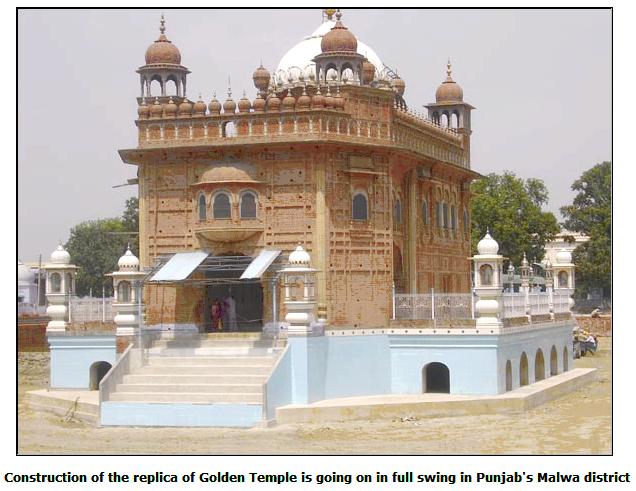 It's indeed surprising that at Mast Vane in Punjab's Malwa district, construction of an exact replica of Golden Temple is going on in full swing and almost 80 pc of the work is done.
In a clear cut agenda of igniting passion and hurting religious sentiments, the construction has been going on for the last two years. Six months earlier, Shiromani Gurudwara Prabhandak Committee (SGPC) has ordered to stop the construction.
In order to cash in on Golden Temple fame, SGPC's orders were ignored and the construction is very much on.
Shiromani Gurudwara Prabhandak Committee (SGPC) Chief Avtar Singh Makkar was obviously upset with the proposed plan of constructing a replica of the Golden Temple.
Talking exclusively to zopag.com, Avtar Singh Makkar said, Copying is bad. It should not be done. Constructing anything equivalent to Darbar Saheb is nothing but bad?.

We oppose the plan of Golden Temple replica. We will investigate the matter, he added.
Shiromani Akali Dal (Badal), Delhi unit chief Manjit Singh totally disapproved of the construction.
Manjit Singh said, "Religious sentiments are associated with it. It should not be done. And by the way, if you are investing so much money, then why go for a replica. Construct something original."
Manji Singh expressed fears that the construction of a replica of Golden Temple will only start an agitation in Punjab. He cited the controversy created by Ram-Rahim sometime back when they dressed up like Guru Govind Singh Ji.
The construction will pose a serious threat to Punjab's law and order and peace and prosperity. Some unwanted elements are always up to such plans to ignite passions and to gain cheap popularity. If things like these go unchecked, then we will have many Patna Sahebs and Huzoor Sahebs. The Golden Temple is culturally the most significant place of worship of the Sikhs and one of the oldest Sikh gurdwaras. It was established by Guru Ram Das Ji, the fourth guru of the Sikhs, and is, also due to the shrine, known as Guru Di Nagri meaning city of the Guru.
The Darbar Sahib is considered holy and beautiful by Sikhs because the eternal Guru of Sikhism, the Sri Guru Granth Sahib Ji is present inside in it. The temple is surrounded by a large Sarovar (manmade lake), known as the AmritSar (Lake of Holy Water or Immortal Nectar).