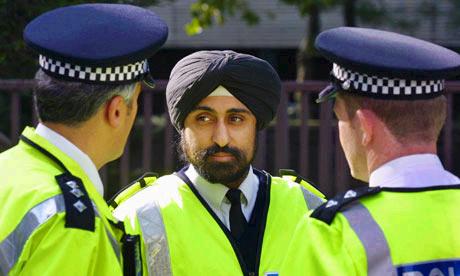 Sikh victims of crime will now be given the option of requesting a Sikh police officer to work on their case. Well, in London at least.
The goal of this new service, offered by the Metropolitan Police, is to make use of the "special" knowledge officers have in regards to Punjabi culture to help address issues such as forced marriage and honor crimes.
Many police officers believe that crimes have gone unreported and unsolved within the Punjabi Sikh community due to a lack of cultural understanding by police officers from a "white" background.
Palbinder Singh, chairman of the Metropolitan Police Sikh Association (MPSA) said: "It's about understanding and appreciating difference. I don't believe a white officer is ever going to be fully conversant with a Sikh for example. We have got evidence in the most serious type of crimes where Punjabi culture itself is the issue, that they haven't been properly investigated." [link]
Cringe.
When the British Sikh Police Association (BSPA) was set up, a spokesman suggested that the organization represented an important move towards social cohesion and integration, just like 'other support networks within the police'. The BSPA did an excellent job at setting up an online service to allow women to report honor-based violence. It's a completely valid effort to address the needs of minority communities – and something which should be celebrated.  However, while I am a huge advocate for providing culturally and linguistically relevant services in all public sectors, I'm not sure that the solution proposed by the Metropolitan Police in England is necessary a good thing. Instead of providing diversity training to all members of the police force, this policy divides justice across ethnic lines.
A writer at The Centre for Social Cohesion agrees,
Singh probably doesn't deserve the demonization he will receive amongst certain sections of the blogging classes, nor the defense he will receive from others, he merely articulates a pervasive rot that has set in to our public discourse. Its treatment can only come when we cease to speak of 'communities' and cease to treat them as a political entity. We should remember that a truly liberal society has only one political building block- the individual- who has neither gender nor colour nor creed. [link]
While I understand that this new policy is a choice and Sikh crime victims are not forced to choose a Sikh officer, could it could potentially lead to a separate justice system for Sikhs? What will happen when Sikhs believe that working with Sikh officers provides them with positive outcomes and working with non-Sikh officers, negative outcomes?  There is no guarantee that a male Sikh police officer will be more understanding of a female Sikh victim of crime versus a female non-Sikh officer.  Rather than investing in diversity programs and ensuring that all police officers can recognize issues affecting minority communities, these institutions in England are opting out of multiculturalism efforts in lieu of convenient solutions masked as community-conscious initiatives. That can never be a good thing for social cohesion.